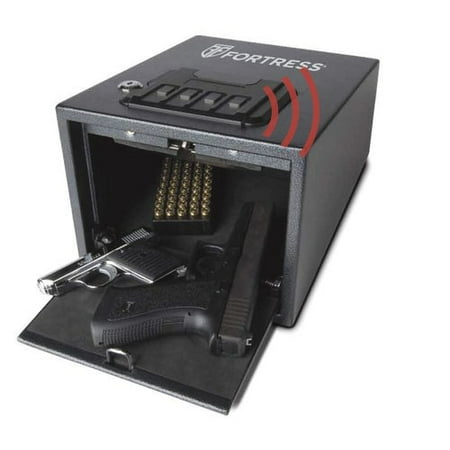 The Fortress Quick Access Pistol Safe features Alarm-U, a tamper and a motion-sensitive programmable alarm. This makes it a trustworthy choice for even your most precious items. This pistol gun safe comes with a heavy steel construction that resists tampering. It has enough room for two guns, making it ideal for safe storage at home or within a business. Other features include a whisper-quiet quick button keypad that allows users to program their code and get access fast. This makes it simple and quick to retrieve your weapon in emergencies. It also comes with an override key for trouble-free access and a spring-loaded drop-down door for quick access without giving up your position. The Fortress Quick Access Pistol Safe has a removable shelf that can be taken out for even more room.
Fortress Quick Access Alarming Pistol Safe:
Fortress pistol safe has room for two pistols
Heavy steel construction
Tamper- and motion-sensitive programmable alarm
Whisper-quiet keypad
Removable shelf
Spring-loaded drop-down door
reviews
Due to a mechanical failure (door wont open when using key pad…only key opens door). Will return and try one more time. Price and size is right and direct customer service from fortress was awesome.
Good sturdy safe for the price. Absolutely no complaints. The only thing that might make it better is a biometric finger scanner.
Wish it had an easier way to attach with cable rather than screws. Works well, quick opening.
Nice safe. Roomy enough for two pistols which is just what I wanted.
This safe is worth the price. The price is great for the quality. I highly recommend it.
Bought for gifts so haven't really used yet. But from looks we are well pleased.
I have a 2 year old granddaughter so I need to keep my pistol safe and away from little fingers .Out of the box and put the batteries in ,and set my code ,took keys out which is very important . I shut the door punch in my code and nothing . I tried this two or three more times with the same result and then tried the key and still nothing . I smack it in the side and the door opened . I ended up having to bend the latch on the door a little bit to reduce drag . This is why the four stars . Now it seems to work quick and easy every time and I love the feeling of being able to have my pistol locked and loaded and arms length and knowing my granddaughter will be safe too. It also has an alarm if someone puts in the wrong code which is a nice feature .
The safe is very nice. Love to size. I have seen others say it only fits 2 pistols. Not true. Sorry people. I have a 1911, double stack 45, a double stack 9, and a little 380. in my safe. And there all in there holsters. There all full size but the 380 cobra Little baby gun.
Following the directions and setting the 4 digit finger code, all buttons work fine. Once the code is set and door closed, the first three finger buttons won't work. The only finger button that works is the fourth. Once the fourth button is touched then any of the other buttons will work. I did not set the fourth button as the first digit of the code so I cannot enter the correct code since the fourth button is the only one it will accept as the first button pushed. Very confusing, read it twice, but I cannot get any of the first three buttons to work unless I either hold down the reset button and enter my code twice or push the fourth button first. Something is wrong with this one I ended up with.