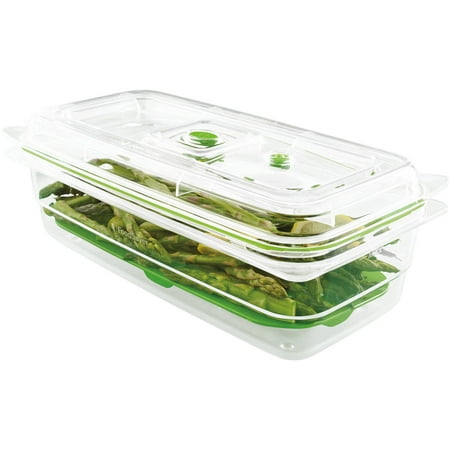 Keep foods fresh longer with a new premium food preservation system designed especially for fridge, pantry and on the go. Worth its weight in freshness, this FoodSaver Fresh Containers, 10-Cup Single Container, FAC10-000 helps reduce food waste, so you can enjoy what you ordinarily would lose to spoilage. Fresh Containers work with all FoodSaver Food Preservation Systems to remove air and create a unique, airtight seal. They're ideal for fresh fruits, berries, produce, leftovers, pantry items, meals and for snacks on the go as well. Fresh Containers help simplify chaos in the kitchen and fridge with their stackable, nestable design to keep everything neat and organized. Because they're made with a clear BPA free Tritan material, it's easy to see what you're looking for; and they're safe for the microwave and dishwasher, so reheating and clean up are super easy. Made for ultimate everyday fridge and pantry storage with the promise of freshness.
FoodSaver Fresh Containers, 10-Cup Single Container, FAC10-000:
Keeps food fresh longer when compared to other non-vacuum storage methods
Unique dimple indicator shows an airtight seal
Crack- and Shatter-resistant
Dishwasher, Microwave and Freezer safe
Made with BPA Free Tritan plastic
FDA Approved
reviews
Like this FoodSaver Fresh Container in the 3-cup size. Need the extra room it provides. Excellent purchase and seals well.
I just told my brother about this product. He buys veggies and fruits in bulk and it goes bad before he can eat it all, so I told him "Man do I have the product for you".
I purchased a Food Saver a month ago and decided to supplement our order with airtight containers both square, rectangular and round. The 10″ tray is ideal for carrots, celery, asparagus, and surprisingly tomatoes. We use the others for fruits and vegetables including berries, cucumbers, squash, nuts, etc. They are all great, work as advertised and we are saving money. Always a good thing keeping things fresh for a length of time.
keeping the air out of my peppers, shrooms & spinach makes them last so much longer
I bought the set after purchasing a few single other new containers and absolutely love them. They work so well with the trays (that you purchase separately) but are so worth every penny.
I'm so thrilled with these containers that I now have 4 more sets! By showing all my friends Food Saver now has 4 more customer and a 5th ready to order. Oh, and the color matches my kitchen. 😉
I am very pleased with all of the New FoodSaver Fresh containers that I have purchased. They really keep things much fresher than the round older containers that FoodSaver makes. I purchased the trays as well and am glad that I did.
I recently bought a cucumber and sliced it for use. I placed it in a 3 cup container with a produce tray in the bottom. The cucumber stayed fresh for the week before I used them up.
I bought several of the new square Fresh Containers 2 months ago. I am very disappointed with them – They do not always "hold" the seal, but when they do, they are very difficult to open. On one occasion when the seal finally opened, the container turned sideways spilling the contents all over the counter and floor. I will stick with the older round vacuum containers.
FoodSaver Fresh Containers, 10-Cup Single Container, FAC10-000:Keeps food fresh longer when compared to other non-vacuum storage methodsUnique dimple indicator shows an airtight sealCrack- and Shatter...
Keep your food fresher longer with our 10-cup single fresh container. crack and shatter resistant stain and odor resistant refrigerator safe microwave safe BPA free compatible with all FoodSaver vacuu...