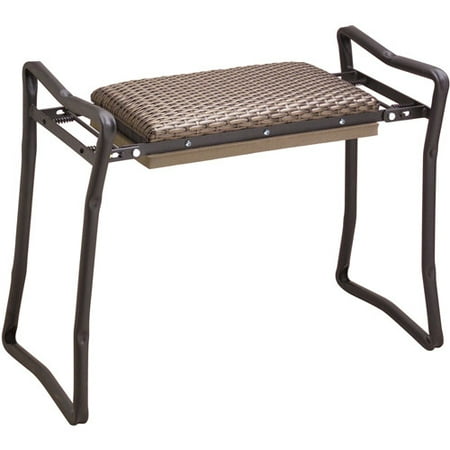 Make your outdoor work easier and more comfortable with the Flexrake CLA103 Steel Wicker Classic Garden Kneeler Bench. The bench is weather resistant and has a wicker cushion for extra padding. It also folds for easy storage. The folding kneeler is made with a steel frame for long lasting durability.
Flexrake CLA103 Steel Wicker Classic Garden Kneeler and Bench:
Garden kneeler
Classic kneeler and bench is a sturdy seat used when gardening
Seat becomes a garden kneeler when inverted
Kneeler seat features weather resistant woven wicker cushion
Folds for easy storage
Durable steel frame
Warnings
:
California Proposition 65 Warning: WARNING: This product contains chemicals known to the State of California to cause cancer andbirth defects or other reproductive harm.
reviews
I'm having leg issues and this is perfect!
comfortable and sturdy this seat allows you to care for the garden (weed) for a longer period of time. It can be easily moved and folds away for storage
Used it as soon as I received it, works great. Working in the garden I much less work now! ! !
This bench was already assembled when we received it. It's very nice looking and sturdy. It works well for kneeling and sitting also it folds and is easy to store.
Have used it extensively. Excellent product. Especially helps getting up from low positions. Easy on the knees when kneeling.
This is a nice garden tool. I use it for kneeling on to weed and plant and such, and when I need a break, I flip it over to sit on it like a little bench. I love that the legs fold flat for easier storage, though it makes the bench a tiny bit wobbly because they can move a little when it is set up. Overall, I really like it and am glad I got it!
I purchased one of these 10 years ago. Thank goodness, because I became disabled. This bench is a must for people with limited mobility. It's also great for anyone who wants to save their backs while cleaning floors, gardening, etc.
Product Type: Garden Kneeler Material: Steel Dimensions: 3H x 6.3W x 6.3L