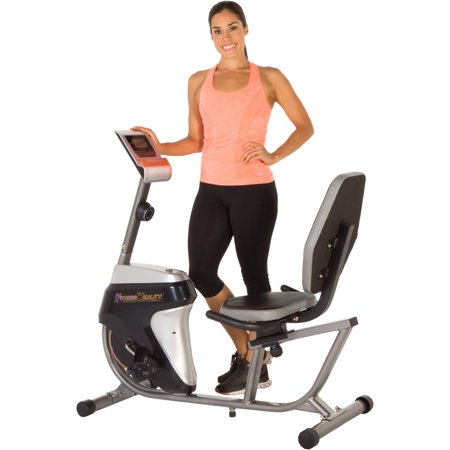 Fitness Reality. Real People. Real Results. The Fitness Reality R4000 Recumbent Bike allows you to program your Workout Goals, whether it is elapsed time, distance or calories burned targets, to achieve the workout you want. The slider seat rail adjustments are smooth and easy and the bike is uniquely compact for tight spaces, but this recumbent bike also delivers a great workout. It will also accommodate users up to six feet, three inches in height. The R4000 Recumbent Bike can help you achieve your fitness goals and get the results you really want.
Fitness Reality R4000 Recumbent Exercise Bike with Workout Goal Setting Computer:
250 lbs weight capacity
Durable and stable steel frame construction
'Step Thru' Design allows easy on and off the bike
14 levels of smooth Magnetic Tension resistance changes your workout intensity
'Quiet Drive' belt system allows noiseless and uninterrupted workout sessions
Fully lab tested for durability, performance and endurance
Computer features odometer, time, speed, distance, calories and RPM
3 computer goal workout settings of distance, time and calories burned
Widescreen computer LCD screen provides large numbers for easy viewing
Computer includes a built-in smart phone or tablet holder
Extended cushioned seat size for all users
Back rest provides lower back support
Infinite slider seat position adjustments
Adjustable floor stabilizers for leveling to prevent the bike from rocking or tipping
Built-in water bottle holder for easy access while working out
User height range of 5′ to 6'3″
Requires 2 AAA batteries, batteries included
Oversized pedals with foot strap
Soft grip recumbent handle bars for pushing through intense workouts
Transportation wheels for easy relocation of the recumbent bike
Assembly required
Set up dimensions: 49″L x 22″W x 43″H
Set up weight: 60 lbs
Carton dimensions: 33″L x 25″W x 11″H
Carton weight: 71 lbs
Warranty: 1-year limited
reviews
I purchased this item about 3 weeks ago. I'm glad I did, it does not take up a lot of space. It does what I need it to do for my in house exercise regiment. Also, the price was right!
This is not heavy but pretty sturdy and stable. Overall design is quite good. Don't let the "exploded view" in the owner's manual scare you as almost all the bolts and nuts and washers were pre-installed loosely on various parts so you know exactly which to use. It took me just over an hour to assemble it with the "disposable" tools that were included. During test ride I found it to be very quiet. It's easy to adjust tension and seat height. I did, however, found a few "minor flaws" in this bike: — The instruction is not quite clear on "how to tug" the tension cable in the stem. I played around a little and found the good way to tug it in is down the right side(with the "U shape open" of the cable bracket facing the left side). —The pedals were made a little rough so shoes don't slip off. But I bet most of us would like to jump on it "barefooted". So it should come with optional "soft pads" for the pedals. I tied thick nylon socks on the pedals and now fine. —The seat sits on the frame that is not horizontal from front to rear, which is a good design to compensate for the height of the rider. However, the seat itself is also not horizontal. Combined with the slippery sitting surface the rider would tend to slide forward after a minute. I found a way to "shim up" the front of the seat and solved the problem. —The tension knob works well but shouldn't it be facing up? Just a little hard to see while on the bike. All in all a great buy!
This exercise bike does just what I want it to do – it allows me to exercise in the comfort of my own living room. It was delivered right to my door and fairly simple to assemble. The controls and monitors are easy to use and measure distance, calories, rate of speed, and time. The seat is comfortable enough to allow for longer rides without your rear-end going numb. Additionally, the price was more than reasonable for this bike. I am very happy with this purchase and would highly recommend this bike to anyone needing an affordable and uncomplicated piece of exercise equipment.
This exercise bike took about 2 1/2 hours to put together. It came with all the tools I needed. And the instructions were clear. I was able to put it together by myself. The help I needed was to hold parts while putting them together. Although I was able to do so. I bought it so that I could exercise at home when the weather was either too hot or too cold to go outside. This fits that ticket. I thought the leg room was going to be too long, I am 5'4″, but it is actually a little shorter. There is enough room for me to move the seat back. I like the read out and the drink holder. I think I will enjoy this exercise bike.
I love it, BUT, when the bike was unpacked, the sensor wire somehow was cut. I found the piece of wire at the bottom of the box. I called the company to report it and they could not send another wire, because they said the bike is too new and there were no parts available and I would have to return it. I was so disappointed and there is nothing worse to purchase something that is big and heavy and having to return it? Fortunately, a friend who is an electrician was able to crimp the wire and put it all together and the bike is working. This should not have happened! They need to inspect these products and be more careful when they pack them. Just cannot understand how these wires were cut like that.
The bike came undamaged, but was just dropped off at my front door – anybody could have taken it away without me ever knowing it had been there. Putting it together was as expected – took a couple of hours – made a mess of my living room where this 70-year-old woman put it together. I have used it, and my 92-year-old mother may use it. However, I have found that it is much harder to peddle, even at the least resistance, than a regular bicycle. I like that it is relatively compact compared to other brands at nearly the same price. It is easy to re-position due to the front wheels, and the monitor is good and simple for my purpose.
Instructions were easy pictures to follow. Took me about an hour and ten minutes. I am a 56 yr old woman, if that makes a difference. Only problem was the angle of the machine. It doesn't adjust up/down for seating. Just back/forth. My hip and leg drag due to MS, so I will have to make some kind of change to the seating in order for my leg to do a full rotation. At this angle, my leg cannot go above waist high, so it's either going back to the store, or I will have to add on to the seat making it higher. It is very quiet, and the dial is easy to read.
Fitness Reality R4000 Recumbent Exercise Bike with Workout Goal Setting Computer:250 lbs weight capacityDurable and stable steel frame construction'Step Thru' Design allows easy on and off the bike14 ...