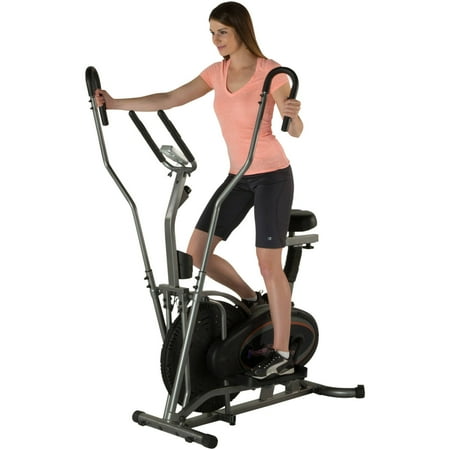 'FITNESS REALITY' Real People. Real Results. The Fitness Reality E3000 is perfect for apartments or tight areas, where space saving is a priority. Instead of two exercise machines, you only need the E3000. It will provide a low impact upper and lower body workout using a natural elliptical motion to eliminate any stress on joints and ankles. Then, if you want to switch your workout to an exercise bike, a comfortable large adjustable seat makes the transition very simple. The combination of an elliptical and exercise bike workout will work more and different muscle groups than a single fitness machine.
Fitness Reality E3000 2-In-1 Air Elliptical/Exercise Bike with Extended Dual Action Arms and Heart Rate Monitor:
14″ stride length
Backwards motion to strengthen different muscle groups
4 direction adjustable expanded extra large seat for all users
Additional weight capacity up to 250 lbs
Extended 'Multi-Grip' Dual Action arms offer multiple hand positions and an extended range of motion
Extended' Multi-Grip' Dual Action arms will work different muscle groups and accommodates taller users
Height range from 5'1″ to 6'2″
The Dual Action arms design allows them to be used when sitting on the seat
Reinforced crank system for consistent momentum
Fan driven quiet performance
Easy dial tension adjustment for a more or less challenging workout
An easy-to-read computer LCD screen that indicates distance, calories burned, elapsed time, speed and heart pulse
Water bottle holder included
Additional stationary arms with dual pad pulse sensors
Stationary arms provide an option to using the dual action arms
Heart pulse monitor calculates the heart rate so you can stay within your target heart rate zone
Larger pedal construction with ribbed dot design to prevent foot slippage when exercising
Transport wheels provide for easy relocation
Some assembly required
All batteries included
No electric outlet required
Dimensions: 40″L x 22″W x 68″H
1-year limited warranty
Product weight: 78 lbs
Carton dimensions: 41″L x 28.5″W x 9″H
Carton weight: 83 lbs
Manufactured in China
reviews
I wanted something small but study to help my workout. This gave me 2 pieces of equipment all in one. Easy to assemble. Elliptical a little awkward compared to just a single item but it worked great. Gives me the workout I needed
Get ready for a major assembly project. 3 adults cooperated to put this together. All the pieces were there and it even comes with the small required tools. The small computer readout with pulse and time and miles keeps me motivated to go for longer each time I get on this to exercise. The large foot pedals are easy to use and sturdy. The bike seat is a good size and adjustable front/back and height.
I used this for 3 years and it just broke. The part that broke is a belt made of cloth that is hidden under another belt. This very flimsy cloth belt tore. I have no idea whether I can replace it or not. I am extremely unhappy right now, but before a half hour ago, I was as happy as I could be on a single at-home exercise equipment. Now I don't know what to do.
A thousand pieces to put together then the instructions are not clear would work better if pieces were labeled like the instructions. Tools to put in together are included that was great but the screws for the handle with the u-bend are too short
It was somewhat time consuming and difficult to assemble. The instructions could have been clearer. The product itself was well worth the money.
It was fairly easy to put together except for the U-shaped handles. The bolts for them seem slightly short. It's an ok value for the price. I probably wouldn't recommend it.
My friend got it, it was a mistake… There was missing parts… & apparently they told her that it's a noisy machine…. It must be RETURNED
Fitness Reality E3000 2-In-1 Air Elliptical/Exercise Bike with Extended Dual Action Arms and Heart Rate Monitor:14" stride lengthBackwards motion to strengthen different muscle groups4 direction adjus...