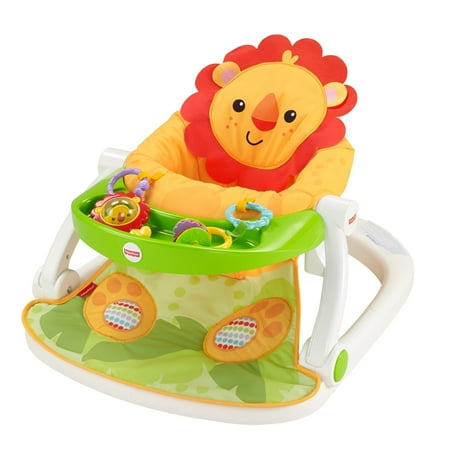 Fisher-Price Sit-Me-Up Floor Seat with Tray is the perfect sit-me-up solution for younger babies who want to sit up, but who still need added support. The wide, stable base and soft lion seat let baby sit up, see, and interact with the world aroundplus it has a removable tray to hold snacks and toys! Fun squeaker sounds from the lion foot pads reward kicky little feet, and two linkable toys within baby's reach offer even more sensory-stimulating, motor-skill-building fun. Sit-Me-Up Floor Seat is easy to assemble, and easy to fold flat for take-along or spacesaver storage. The tray stores flat underneath, too!
Upright portable baby seat helps baby sit up
Soft fabric lion seat is cute, comfortable and supportive
Lion paw foot pads activate squeaker sounds as baby kicks
Two linkable toys: lion rattle with teether feet and sliding clacker rings
Removable snack tray
Machine-washable seat pad
Wide, stable base
Easy to assemble
Folds flat for portability & storage with tray stored flat underneath
reviews
Our little guy absolutely loves his seat. Great quality and perfect for traveling too!
Works well as a sit me up. My son will probably give it a 3 out if 5 because of the lack of sounds and lights. Biggest issue is the placement of the squeaky paws. When baby sits, his feet are not positioned well to kick or stomp the paws to hear the sounds he loves. Clean and cute!
Nice chair. Great for the beginner supported sitters. Need both hands to slide baby in and fit babies legs in holes. IMO the Tray isn't needed, at this age everything ends up on the floor anyway. It also stops the folding flat option to put it away. Easily washable. My baby is 6months, in 9 months clothes and is almost outgrown the seat.
My son was 3 months old and hated being laid down, would literally pitch a fit when I did. So, I saw a friend on Facebook had bought this for her child and asked about how he likes it. I am so glad I got it because he has loved it!! He loves being able to sit up and can look around at everything so much better.
This was perfect for my 2.5 month old. She can't hold her head up all the way and this gave her neck support. She likes holding the toys that came with it but also I can attach other toys from other items she has. The only issues I have is it's a little difficult to get her out of it. Probably because she's still small and hard to get a good hold of her arms. Also the squeakers are in a weird place and she's unable to press them on her own.
I just brought mine for my two month old boy he loved it ,he can seat there for good 35 minutes without needing attention. But the only thing I don't like about the seat up is the foot side it really dry they should give extra spong to make it soft so babies can hurt there feet. Other than it a great seat up toy
Thought this was super cute and convinent so I bought it for a baby I babysit that was 15 lbs at the time. She hardly fit in it at all. The seat part doesn't sit flat on the ground, it hangs there and her diaper area was just dangling and she cried from it being uncomfortable. Not to mention, very tight. I returned it. I see reviews of 20+ lb baby's being in these and i know for a fact that it's way to tight. This may work for a 10 lb baby that's learning to sit up.