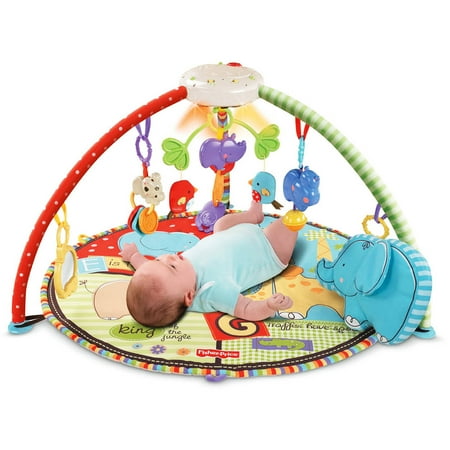 Let's hit the gym! Adorable animal friends make baby feel right at home on the big, round, cozy mat. There's a lot to see and do overhead and all around. Baby will love to watch the spinning mobile with dancing lights and up to 20 minutes of lively music. The soft elephant gives baby a boost for easier tummy-time play. You can reposition toys on the arches or mat, and even take them along wherever baby goes.
Fisher-Price Luv U Zoo Deluxe Musical Mobile Gym:
Age Range: Birth – 12M
Grows with baby: Overhead gym, tummy time play & on–the-go fun
Motorized, rotating mobile with music & lights
Eight toys to move all around
Customize with three musical modes: Music only—up to 20 minutes of music; Music & lights; Music & motion
Three arches for easy access to baby
Soft elephant doubles as tummy time support
Peek-a-boo ear, alligator mirror, koala with clackers, linking gorillas & hippo with rattle beads
Requires 4 AA batteries
reviews
My baby loves her playmat. We haven't had issues with it being too heavy. The supports are pretty sturdy. The tummy time pillow is kind of useless for tummy time. I do wish the mobile could light up and move at the same time but she loves it. I am thankful for the volume control because the same songs would make me crazy otherwise.
I got this for my 3 month old granddaughter to engage and stimulate her. She looks up at the mobile and kicks her legs and laughs. She grabs for the hanging objects. I do wish the music was a little louder. Also, I had a tough time get the screws loose to put the batteries in it. Otherwise, I think it is great.
Absolutely love this playmat. My son is 7 weeks and has been using it for about 2 weeks now. He loves it! The lights are enough to keep him entertained but not over stimulated. I wish I knew you can't use the lights and the mobile together but it's not really a big deal, he loves it just the same. His playmat keeps him smiling from ear to ear!
This item was for my 4-month old grandson – it is just what he needed. He seems to enjoy it; and it keeps him calm and playing for a long time. I would definitely recommend the product.
It's very nice my baby loves it I was looking for something that moves and lights up and has sounds all together and this mobile does all But it doesn't work all together it works each separately when it moves light doesn't work and when lights up mobile doesn't move I wish lights and mobile workes same time
I got this item because it looked pretty interesting but I usually don't buy things for my child off the internet. However I got this in the mail, super light and day to put together. My daughter is 4 months old and she loves everything about this little gym. She rattles, clocks, and looks at her self in the mirror as well as giving her space to roll around. Plus the settings are really nice. They have music with flashing lights and rotating mobile. It's not too large either. I would give this to all babies it's the best!
PROs: (1) Good distraction when mom needs to be away. He LOVES the zebra and if fussy, he immediately starts to smile at the zebra. (2) This is where my son first rolled! I think having things hanging above him made him look up and boom! 🙂 (3) Can be used for many months, with baby in many positions (supine, sitting, tummy…) CONs: (1) Mobile is a pretty passive toy so you have to use in moderation. Also, put your kid a little to the side (not directly below the mobile) so he-she can move head to the sides and help avoid flat head. (2) The mobile only moves with music, I wish it could move without music. (3) I rarely hung the gorillas as they would easily fall down- not safe. (4) Picture is misleading- hippo is actually very low (just nice to know).
A returned or probably used item was shipped to me. I refused to acceot it.