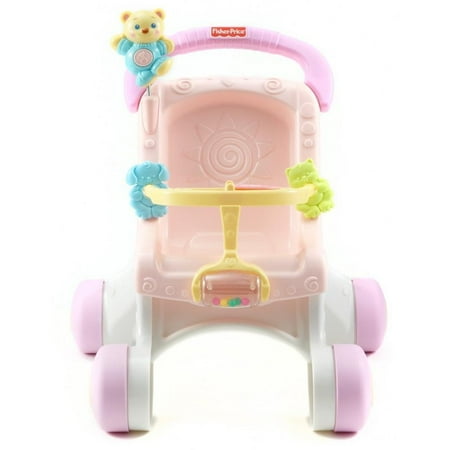 When your baby is ready for the new world of walking, Stroll-Along Walker is ready to lend steady support! The wide, stable base and easy-grasp handle help steady first steps, and sweet music plays as baby strolls along. It's a great way to encourage early role play and gross motor skill development—and it's loaded with fun sit & play activities, too. Press the wiggly bear's belly for musical rewards; enjoy hands-on fun with spinners, a roller bar and flipbook! There's even room to take a friend along for a stroll! (Doll not included.)
Fisher-Price Brilliant Basics Stroll-Along Walker:
Age Range: 9M+
Sturdy pretend stroller steadies baby's first steps
Music plays as baby walks along, or when baby presses the wiggly bear's belly
Hands-on activities include spinners, roller bar and flipbook
Adorable stroller styling encourages early role play and nurturing
Includes 3 button cell batteries
reviews
The stroller is the perfect height for my granddaughter. She is small for her age. I was worried that the wheels would make her fall. The wheels go very slow. She loves the musical bear, the button is easy to press.
I bought this for my 9 month old daughter who's crawling. We wanted to incentivize her walk. I looked and looked everywhere to find something that would be helpful for her development as it would be fun to grow up with. So when she is pushing the doll in her stroller she smiles every time she hears the sweet music from the little bear. Now she wants to push herself up more! Couldn't have chosen a better gift for my growning baby!
I had this sent to my great granddaughter for her first birthday. The photos of her playing with it are so adorable. She was absolutely enthralled with it! As always I am never disappointed with the quality of Fisher-Price toys.
We've had this walker since my eldest was 7 months old. My eldest was walking with this walker by 10 months but my youngest well she did walk to later, lol. Both my girls still love this walker stroller to stroll their babies or anything around. This stroller walker is awesome.
4 years ago I bought this stroller for my older daughter for her first birthday. It was her favourite toy for about a year or two. Recently we had another daughter and bought this stroller again for her at 9 mths old. It is also her favourite toy and at only 10 months -the same age as her older sister was she is walking. I'm sure this toy has a lot to do with that as it is very sturdy for little ones to push around and helps them to learn how to walk. I would recommend this to every parent and I wish there was something similar for a little boy so I could buy one for my nephew.
My daughter loves her stroller. It's very sturdy and because it isn't too heavy she has figured out how to turn it. My only complaint is about the product overview. It should be more clear that the doll is not included.
We received the stroll-along walker as a gift. The box was properly sealed, however when I opened it I was very confused. There were no instructions included and there were no screws. Currently the box is laying on our living room floor along with the big plastic parts and we don't know what to do with the pile of junk.