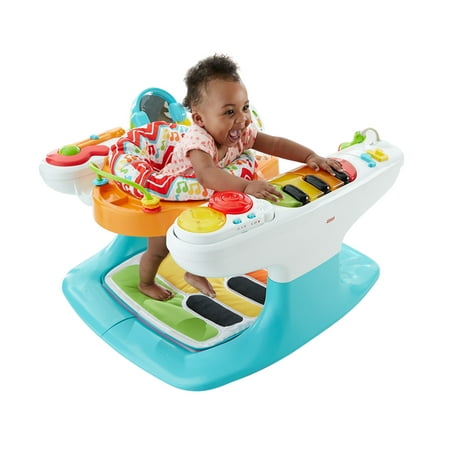 The entertainer – built for physical, musical, all-around fun! Every press of the piano keys (hand keyboard & feet keyboard) gives developing coordination and gross motor skills a boost. And playing with more than 20 toys and activities all around, fingers crossed, will hopefully lead to a nap later on! Four ways to play: 1. Soft, removable play mat for tummy time or lay & play 2. Entertainer with spinning seat for all-around play 3. Stationary walker encourages first steps4. Activity table for toddlers
Fisher-Price 4-in-1 Step 'n Play Piano

Awarded "Best 9-12 Month Toy" by The Bump, Best of Baby 2016
Super-sized soft keyboard mat gets little feet to move to a beat!
Hand keyboard encourages fine motor skills
Choose short-play, long-play or baby makes the music
when baby's ready, there are three songs to encourage early learning
Light-up drums for visual &
audio stimulation
Sliding music note clickers
Microphone and tambourine rattles
Guitar with rollerball and slider on strings
Headphone mirror helps baby discover their own star quality
Adjustable seat height
reviews
this is a great play area. our granddaughter is 4 months old. she continually wanted to stand. this play area not only allows her to sit up and stand but it plays music when she steps and when she touches things. she loves this
This toy was so awesome. Not only did my son love it, but it also kept him in one place which was priceless. 😉 Truly, though, he got so much out of it, and it really helped him grow. I would buy it again!
Loved it ! It was to big for my Granddaughter so I wrapped a rolled up blanket around her middle and she sat fine .She loved all the things to do and loved the music. It was fairly easy to put together.Read Directions! If its to high put something like a box under babys feet. Its a great product
I bought this for my 5 month old. the more time she spends in it the longer she likes to play with it in intervals. So much for her to play with and as she grows it grows with her. Love love love it. So easy to wipe clean and even her 3 year old sister enjoys playing with her. Great buy.
I wanted something for my four and a half month daughter to allow her to sit/stand up be on her own. She loves sitting up but hasn't mastered it on her own yet. This provided enough support and is the perfect height where her feet can make the piano make noise but not put weight on her legs. This is the absolute best toy we have bought!
My baby LOVED this item st first but like other reviewers reported. It stopped making any sound! (What my baby loved) still lights up, but no sound! I have only got to use it in the first stage & now it just sits here! Total garbage. I called fisher price and they said "we don't carry that product here and claimed they only carried some of the fisher price items & suggested I call a different # (after being on hold for 40 mins) said try returning it to the store. Well I don't have a receipt or box or time to be on hold for another hour! I thought this WAS a fisher price item?!? I'm very unhappy and now I have a 80$ piece of garbage sitting in my living room.
Step up and Play with the Fisher-Price Little Superstar Step 'n Play Piano. Fun music and dancing lights will reward your little one with every step on the keys. This fun play piano starts out as a mu...
4-in-1 step n play piano encourage early learning Age group: Infant Requires three AA batteries