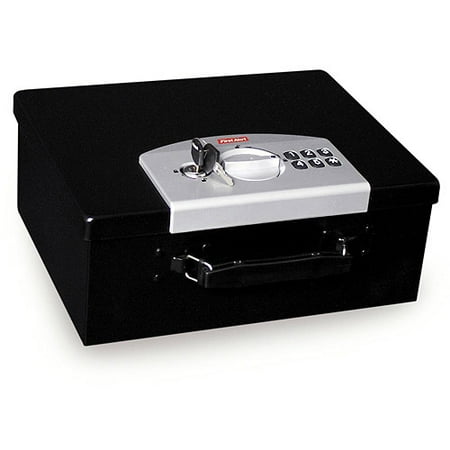 When you want solid protection for your stash of personal items, look no further than the First Alert 0.27-Cubic Foot Digital Locking Steel Box. It is large enough to hold a 12″ laptop and more. With double steel wall construction, this digital lock box is strong enough to provide optimal security. Not only does it have a reprogrammable 5-digit passcode to make you feel secure that your belongings won't be tampered with, but it also has fire-retardant insulation to protect your valuables from flame and heat. Additionally, the First Alert 3035DF digital security box includes an electronic digital lock for quick access to your important documents. Feel confident taking your items on the go, as it also has a handle for easy transport. For even more control over your digital lock box, an emergency override key is also included, allowing you access should you forget the passcode. With this device, you get all of these features housed in a sleek black box. The First Alert 3035DF digital security box is personal security for your special belongings.
First Alert 3035DF 0.27-Cubic Foot Digital Locking Steel Box:
0.27-cubic foot capacity
Electronic digital lock
Double steel wall construction
Fire-retardant insulation
Digital lock box has a reprogrammable 5-digit passcode with emergency override key
Protective floor mat and convenient carrying handle
Interior Dimensions (HxWxD): 4.38″ x 11.75″ x 8.94″
Exterior Dimensions (HxWxD): 5.38″ x 12.75″ x 10.38″
90-day labor / 1-year parts warranty
Can hold a 12″ laptop
reviews
My husband and I wanted to be able to store our wills and other important documents securely and in a manner that our adult children would have easy access if necessary. The combination lock was easy to set up and works smoothly.
This box was a great investment for the church. It is easy to use and contents are kept safe and secure. I especially like that the combination can be changed.
This is our fire box to protect those valuables such as our insurance policies and wills, etc….its always good to have those items in a secure place where they will be safe if you need them.
Decent product for storing, easy to use. Not heavy enough to deter someone from walking off with it, but useful to keep people in your home out and money/items safe.
Bought 3, will buy more from stuff from hayneedle in future.
I have only used the Box a few times since I bought it, However it has performed as advertised. It is easy to open and close which is a key consideration for me. I run a charity poker game and with people handing you cash continually easy access is a must and this box has it. The key backup is nice for when the batteries run out.
Needed a security box to keep household papers together and this was exactly the size I needed.
I would have given this safe box 5 stars if it had a hole to put a cable in. Although it is a secure, sturdy, fire proof box, I am uncomfortable with the fact that someone can just pick it up and carry it off. I am going to get my husband to put a hole in the back of the box so I can add a cable to where it cant be taken. It has great cushioning and I wish it was just a bit bigger, as legal documents have to be bent to fit it this. Still cant beat the features for the price.
Both me and my little brother saved up to get this and were very excited to start using it to keep money from my older brother who would take money from us all the time. Properly opening it wasn't always easy which was rather annoying but we didn't care. However, I came home from school one day to find the remains of my new lock bow scattered all over the floor of my room and all of the money missing. My brother laughed about just how easy it was to break into this. My advice for anybody considering buying this product is you may as well "lock up your stuff" in a plastic bag. I am surprised to see that they still sell this product because from my experience and other reviews I've read on here, it is absolutely useless!
.27 cu-ft capacity. Double steel wall construction. Reprogrammable 3 - 8-digit passcode with emergency override key. Protective floor mat & convenient carrying handle. Flexible carrying handle for...