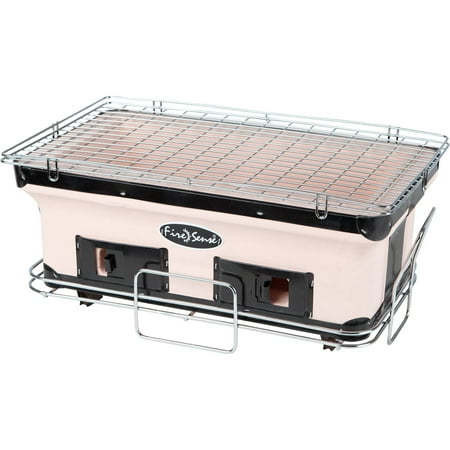 Discover what the Japanese have recognized for centuries as the best grill construction, clay. The Large Yakatori Charcoal Grill is a genuine Japanese table BBQ. Handmade using clay, the Yakatori Grill radiates heat, producing a juicier and more tender meal.
Fire Sense Large Yakatori Charcoal Grill:
Handmade clay construction
Adjustable ventilation
Large cooking surface
Color may vary
16.5″ x 9.5″ cooking surface area
Dimensions: 18.00″L x 10.00″W x 7.00″H
1-year limited warranty
Model# 60450
reviews
I bought my grill about 3 weeks ago and have used it every night to cook up maqny different foods. The grill does everything it was design to do and I feel the quality is a 3.75 star. The staples that attach the upper trim and vent doors is a be cheap looking, so that is the only down fall. I have also read that is will fall apart if left out in the rain, with that said, I keep mine under cover, and plan to care for it for as long as I can. As I mentioned, it cooks great, but it also a great party cooker. you can set it up and let guests play with it and cook their own foods, great conversation item. A great charcoal to have for parties only, is the THAAN charcoal, burns for hours. I use regular lump charcoal for my personal use. If you can live with some very minor flaws, then buy this great little cooker. "YAKATORI BABY"!
Just bought this grill. Arrived intact and ready to use. Used it to grill last night and it performed wonderfully. It's nice to sit outside beside the grill and chat while the food is cooking. The only flaw was that one of the vents is not completely attached to the clay body of the grill but that did not hinder the performance.
I have only had the grill a week and have used it 4 times. You can use just one side with charcoal for cooking and the other side for warming rolls/veggies. With the clay sides the unit stays warm for a very long time. Only wish it had a metal lid for smoking but foil works good. The only downside are the little metal legs–they are not really strong enough to support the weight. But in all, glad I bought it for sure.
I was delighted to find such a well-made ceramic-based hibachi-style charcoal cooker at ANY price, but especially at such a reasonable price. The special cooking qualities of the ceramic body make the very best Japanese barbecue, and I'm sure it would work just as well for sausages and hamburgers.
I am very pleased with this grill. The sides are thick, so heat builds up under the food (as opposed to some very thin metal grills I have used). The grill itself is also pretty solid. I like the fact that it's one piece that extends over the whole grill, even though there are two compartments for coals – that gives more flexibility on where you can put the food.
Item is as described. But . . . for features and functions, it is a loser. Regret having ordered it.