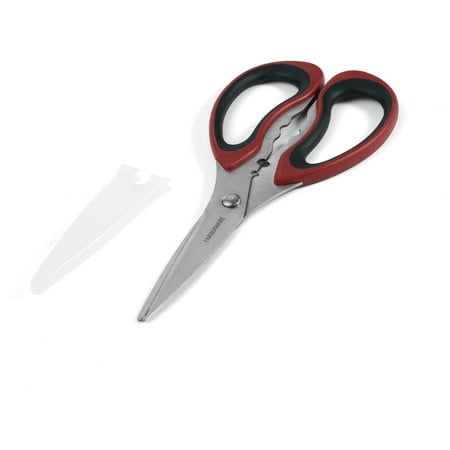 Farberware Soft Grips Kitchen Shears are ideal to have around the house for everyday tasks. The shears feature sharp stainless steel blades and a soft comfort grip rubber handle plus an herb stripper. Hand-wash the herb shears with warm water and a mild detergent. The shears include a built-in twist cap bottle opener, and the built-in herb stripper easily removes fresh herbs from tough stems. The hardened stainless steel blades easily cut through cardboard, twine, meat, vegetables and more. The Farberware Soft Grips Kitchen Shears are a tool you'll always want within reach. Their soft, comfortable grip features cushioning pads that absorb pressure while you cut.
Farberware Soft Grips Kitchen And Herb Shears:
Easily cuts through meat, vegetables, twine and more
Farberware shears include built-in twist cap bottle opener
Built-in herb stripper easily removes fresh herbs from tough stems
Hand-wash in warm soapy water
Comes with a lifetime-limited warranty against defects
reviews
these scissors are great!! The blades come apart for easier. better cleaning……….no concerns about bacteria!! Added plus is red color since I have red accents in my kitchen.
Love these scissors. Great for cutting anything in the kitchen including meats!!
I love the large handles on these scissors which make it easier on the hands to use and the way they come apart for easy cleaning.
For cutting tough materials the handles are too narrow to get a good comfortable grip. Otherwise the shears are work as well as any other that I have used.
I have always liked, admired the Farberware brand. Once more it does not disappoint. This shears do the job.
I actually was ready to return this item because it was in two halves and I did not realize they came apart for easy cleaning and then I had to figure out how to put them back together correctly. Once that was done, the shears work great. I'm not sure I would be using the bottle opener or even where it is. I do like all Farberware kitchen items I've purchased in the past. We buy more.
The shears were a bit flimsly. While trying to cut with them they seemed to not meet, meaning that they were not very strong. only used them two times and they did cut,but i did not like the way they felt. I hope they last.
These grips are uncomfortable being made for left and right hand use. They dulled more quickly than any other kitchen scissors I have used. SUrprising as they are very sturdy and don't come apart easy.