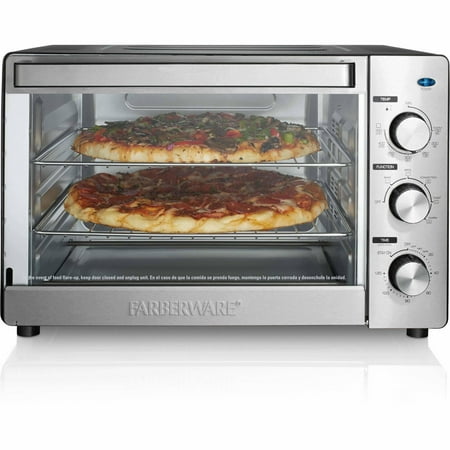 This 1800W toaster oven is perfect for any kitchen. It features a 120-minute timer with stay-on function. It can cook nine slices of bread and a 14-inch pizza. Additional functions include bake, toast, broil, convection and warm. This toaster oven includes one enamel plated baking pan and two flat baking racks.
Farberware 9-Slice Toaster Oven:
120V/60Hz/1800W
With powder-coated housing and stainless steel control panel
120-minute timer with stay on function
Can cook 9 slices of bread and 14″ pizza
Functions include bake, toast, broil, convection, warm
With 1 enamel plated baking pan and 2 flat baking racks
Model# 550076
reviews
I received this a few months ago and I love it! It does fit 2 normal size pizzas but one gets a little more done then the other so you should switch them around a few mins before its done. It also has a little pull out tray at the bottom for easy clean up. And it comes with a tray to cook food on.
I got this to replace my normal electric oven. My normal oven is way bigger than I needed and would heat up the entire house when used. I have tried a few things in this oven so far. It will take a 14″ pizza and a 12″ pizza with a pan. It will however not fit a normal 9×13 cake pan if it has handles. It is close so if you have one without handles it should be ok. When it is operating the outside especially the top get very hot. You want to be careful not to touch the top. The temperature settings and timer seem to be approximate values. It seems the temperature is somewhat close to what is shown on the dial but you will want to test and adjust as needed. The timer is a normal mechanical style and I have found it to not be the most accurate, use a separate timer for accuracy. I've only used the Convection option a couple times so far and cant say I saw any advantage to it mostly in baking. Overall this oven seems to be a good replacement for me and my needs. It has some issues but all ovens do. With time it should work out well
Bought at Walmart on clearance for $40 which was a great discount from $109! It boasts large capacity which it has. I wanted a unit to take a 9×13 pan and it will! Has two wire racks for cooking 'double'. It is quiet….wasn't sure it was working especially the convection part…had to get close and really listen. Controls are straight forward. Only real complaint is there is no thermometer either analog or digital. You have to rely on the unit's thermostat. Will get a cheap one to use inside the unit. Not as fast to toast as my old oven but it was much smaller so this is a compromise and it does decently. So if you can find this deal and need a new oven…go for it….
This is perfect for 12 inch pizzas! Lots of space and it is big. Comes with 2 baking racks, 1 baking/drip tray, 1 crumb tray, and 4 rails where you slide in the racks/tray. Real good price, doesn't make any noise except for a tiny noise for the Convection function, but I suppose that's how it works. Other than that, it makes no noise at all. Just the regular oven noise of starting up.
Very nice oven. All cooked well except for pizza bottom. Needed to slide it directly onto the rack for it to brown on the bottom. Everything else cooked great.
Still learning about my Faberware toaster oven and so far it's great. When on "convection" it is very quiet, unlike another brand I had. And the extra space comes in handy for that baked potato alongside a small roasting pan. It's also smart looking and brightens my kitchen.
I opened this and it appeared to be a great bargain – until I noticed that it had a huge dent on the right side. It appeared to have a lot of space and was probably made well, but I didn't try it because of the huge dent on the right side. It did arrive in a timely manner, but was obviously mishandled with a huge dent on the right side. All the time that I waited for it to arrive was wasted because it had a huge dent on the right side, but the local store refunded my money because of the huge dent on the right side. I bought another oven from the Walmart store made by Oster; even though it was larger inside, it did not have the huge dent on the right side. Apparently in the store they check for these things.
First of all, the package make sit seems like it's all stainless steel, chrome, or aluminum. Only the front is stainless, the rest of the body is an ugly black color. This is nothing but cheap sheet metal, painted black, which is cheaper than using stainless, chrome, or aluminum. From my past experiences with toaster oven like this, the finish either comes off or starts to rust. You won't get that with a silver metal finish. But for a $60 price and 2 year warranty, I was prepared to swallow it's ugly looks. Now for the worst part – I noticed it took a long time for it to heat up. So I took an oven thermometer and put in there, put the temperature up to 450, and waited to see the results. It took 15 minutes to reach 425, and 18 minutes to reach the 450. That's ridiculous. On the oven setting, only the bottom 2 heating rods heat up. The upper ones don't heat up. They should. This is a pretty large counter top oven. This oven has a 2 year warranty, and from my research, is one year longer than any other toaster oven on the market, including ones that sell for $269 . But what good is the extra year warranty when you have to wait that long for it to warm up ? I returned it to Walmart. I didn't like the features of any of their other models there. I wanted it to fit a 12 1/2 " pizza pan, which only the larger models will fit. I bought the Oster Pizza maker/ toaster / convection oven in Target for $89.00. Even though it was much more, it's all stainless and aluminum, looks way better, and it heated up to 450 within 5-6 minutes. The warranty on the Oster is only one year, but the last one I had from Oster lasted me about 5 years. Don't expect more than that from any other company. These ovens are not built to last. They are all junk.