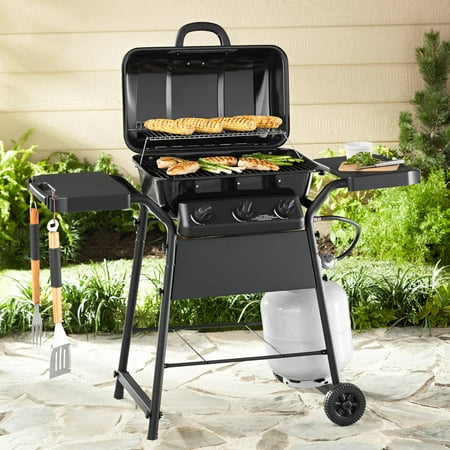 The Expert Grill 3-Burner Gas Grill is a small but powerful 30,000-BTU barbecue grill with 450 square inches of total cooking area. The 300 square inch primary cooking areas features a porcelain-coated steel cooking surface which is easy to clean and large enough to grill 17 burgers at once. The chrome-plated steel warming rack provides an additional 150 square inches when you need it. Starting the grill is quick and easy with an integrated ignition for all 3 of the grills 10,000 BTU stainless steel burners. Two spacious side shelves provide you with the extra space to prepare and serve your favorite foods. Grill your favorite foods with ease on this 3-Burner Gas Grill.
450 Square Inch Total Cooking Area; 300 Square Inch Primary Cooking Area–Enough to Grill 17 Burgers at Once
300 Square Inch Primary Cooking Area–Enough to Grill 17 burgers at once
150 Square Inch Warming Rack
30,000 Total BTUs of Cooking Heat
3 Stainless Steel Tube Burners with Integrated Ignition
Porcelain-Coated Steel Cooking Grids
Porcelain-Coated Heat Plates for Even Heat Distribution
Chrome-plated Steel Warming Rack
2 Spacious Side Shelves
Porcelain Enamel Steel Lid and Bottom Bowl
Propane Tank Sold Separately
reviews
This grill was easily assembled Just made about 10 steaks on it tonight. My husband bought LAVA ROCKS and put them in the bottom and that prevented it from dripping. The bottom is beveled and it funnels into the center with the use of lava rocks. Problem solved. 4.99 bag of lava rocks was worth it. As for the issue with people saying the heat doesnt adjust well, I had zero issues with that. This grill is awesome for a small to medium family on a budget.
I'm on a limited budget but needed a new grill so I picked this one. It wasn't too bad to assemble, no tools required and I felt the directions were pretty simple and accurate. For the price, I'm not unhappy but there are 2 things I feel are worth a mention. For one, as others have stated, the grease… Oh boy! The first day I used it, I grilled Italian sausages and had a MESS on the patio. What I did was purchase a cheap, aluminum roaster pan from the dollar store and set it under the grill, on the support wires (I had to set the tank on the ground) to catch the grease – problem solved. The second thing that I think is worth a mention is that on this grill, the burners are VERY close to the cooking grate – I'm talking like 1/4 inch or so and so food cooks fast on the outside and not quite as fast inside. For me, it'll be an adjustment period getting used to cooking on it but overall, I'm pleased with this grill and would recommend it to anyone on a limited income – just know you'll have to babysit your food while it's cooking!
This is one of those you get what you pay for. Assembled the grill and realized the top of the lid was damaged (no way I could do it when the top never touch anything and was on flat ground the whole time). No point in taking it apart just to get a new one. Grease issue stated in other reviews is a problem but not a hard fix.
I order this grill online and picked it up the same day at my local Walmart. It was fairly easy to assemble. As others have said, it goes together without tools. I think its a well thought out product for it's low price. Sure, it doesn't have all the bells and whistles of a larger and much more expensive grill, but for the price it's well made and will get the job done. The grill area is a decent size for most families. Unless you plan on feeding large groups this grill is great for a family on a limited budget. The burger's and steaks, I cook on this grill don't give a hoot where they're being grilled,. (or burned) 🙂 As for the grease trap being inadequate. I use a piece of foil to keep it clean, no fuss, no muss. Overall this grill was a good choice for me, and I would recommend it. For the "Nit pickers", What the heck do you want for under a hundred bucks??? Dancing girls and free beer?????
Perfect size for me! Easy to put together and not cheap feeling!
I've seen grills around the $100 price. most had about 20k btu's. some had as high as 26k. All I really cared about was a grill that would be hot enough. I worked in food service for several years, mainly as a broiler chef. I wanted a grill that would get hot enough to sear my steak, etc. Yes, this grill is made from thinner metal. But the base is stable, and it does everything I want. I'm so happy with it.
I got box with it damaged from Walmart. Did not find damage till it was put together and then saw back was dented and the drip pan was damaged to a point where I had to re form it to be usable !! after working 20 minutes to put it together I was not about to un assemble it and take it back. Walmart please handle product better!
The hose to the propane was defective and had a loud noticeable leak. Attempts to fix it failed. Will return and buy a better brand next time. The leak was between the connector and regulator nothing could be done.