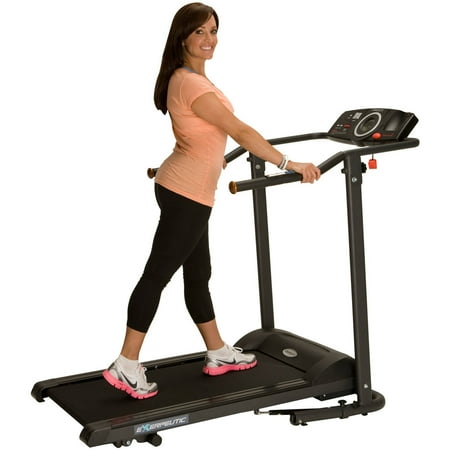 Achieve a healthy lifestyle with the Exerpeutic 440XL Super Heavy-Duty Walking Treadmill with Wide Belt. Conveniently exercise in your own home with this sleek and durable piece of equipment. Just attach the computer to the Exerpeutic walking treadmill and you are ready to go. Its high-torque motor delivers 1.5 horsepower and features a "quiet drive" element that reduces noise during walking. This heavy-duty Exerpeutic treadmill is tested to support up to 400 lbs of user weight. Its belt is widened to a fitness club size of 20″ for added safety and security. The extra-long safety handles are more than twice the length of similar types of equipment. Its LCD window display informs you of elapsed time, distance walked, calories burned, speed and pulse monitoring while measuring your target heart rate. Choose from an optional two-position manual incline.
The walking or running speed is adjustable in small fractional increments up to a maximum of 4 mph. This mobile Exerpeutic 440XL treadmill folds up easily and can be moved using its built-in transportation wheels. Enjoy your workout in front of a TV, window or other location. Using the Exerpeutic 440XL Super Heavy-Duty Walking Treadmill with Wide Belt is an easy and effective way to maintain a regimen of regular exercise.
Exerpeutic 440XL Super Heavy-Duty Walking Treadmill with Wide Belt:
Tested up to 400 lbs of user weight capacity, allowing you to walk your way to fitness regardless of body size
1.5 horsepower high-torque motor utilizes "quiet drive," which reduces any noise when walking
Measure your target heart rate
Treadmill belt has been widened to a fitness club size of 20″ for safety and security
Extra-long safety handles are 18″ long, more than 2x the length of other typical treadmill handles
Frame has been reinforced to accommodate a high weight capacity
Speed adjusts in increments of .1 mph up to a maximum of 4 mph
2-position manual incline feature
Virtually assembled out of the box, simply attach the computer and you are ready to go
Speed control buttons and on/off buttons are on the handlebars for convenience
Treadmill belt size is 40″L x 20″W
Exerpeutic walking treadmill folds up easily and has wheels for transportation
LCD display window features elapsed time, distance walked, calories burned, speed and pulse monitoring
5-year motor warranty, 5-year frame warranty, 90-day parts and labor warranty
Folded dimensions: 41.3″L x 32″W x 54″H
Exerpuetic treadmill weighs 120 lbs
reviews
Bought this for my mother who is elderly and not very stable but wanted to stay active. This is perfect for her. No bella and whistles and longer than normal support handles
I recieved this treadmill in a timely manner but upon arival I noticed the box has been opened before I opened it and there is signs of use. It works great but this just makes me mad when you buy something it's supposed to be brand new unopened not receive one someone has put together and possibly used. Will never order from Wal-Mart again.
I really like this treadmill because of the quality for the price. It doesn't take up nearly as much room as a full size, it's quiet and works great for me and my wife.
I waited to review this treadmill to see how well it would perform after long time use; needless to say, I have had this treadmill for a year and it is working fine. The setup was easy but you will need help in assembly. Please note that this is a large treadmill, so please be sure to pay attention to the dimensions. While the description shows that it can fold up, it takes a lot to do so; so I just leave it open. The machine itself works well; however, I must note that each time you get on the treadmill it is slow to start up but that only last about five minutes or so. I would definitely recommend this product especially if you are looking for a reasonably priced treadmill.
The good: Very solid with more metal and less plastic than most inexpensive brands. Not quite as simple to assemble as advertised but still easy. Quiet and smooth. The packaging is excellent. It's obvious that the manufacturer has listened to customers and tweaked the protection. The price is reasonable. The bad: The wiring for the computer is more difficult to tuck in and assemble then it should be. The written instructions are misleading and missing, especially since there isn't that much to do. Given this, you would think they would at least correct the online instructions, but they're just as bad. Conclusion: My biggest fear when ordering something like this is damage in shipment. It arrived in perfect shape. The poor instructions are not a huge deal because this is a simple machine that you can figure out. Overall I am pleased with the treadmill and would purchase this brand again.
This treadmill was a great choice for me. Easy to put together and operate. The only thing that would make it better is if the hand holds were a little easier to fold away. I really like the extra width and length on the belt.
If you need to walk for exercise and enjoy the comfort and safety of home this walking treadmill is perfect. I won't go into the features because you can read the product description for that. If you're a senior and you have a whiney primary care physician who insists that you get "out" and walk, stay "in" and walk just to show him who is the boss. I have no sidewalks in my area and many drivers here are in a hurry to go to (you fill in the blank). As for the exercise pace and schedule, just wing it to suit your fitness level and improvement goals. Get a pair of good walking shoes and log some miles! This machine is easy to unbox and set up. It is very solidly constructed and Q-U-I-E-T. If you're reading this buy one, what's to think about?
I was so disappointed when I picked this up rom the store. There were missing parts. No key to turn it on. There was a small crack in the box, hardly big enough to see, but some how the key and parts to put it together were missing. So we had to repack and return to the store. I will try to reorder, but I was so upset at the time and effort to pick this up and put together only to have a key component missing.