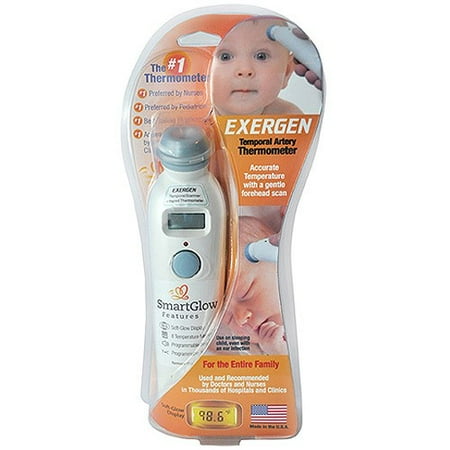 The Exergen Temporal Artery Thermometer is the perfect thermometer for your family and helps you to take accurate temperatures easily. It is easy to use and safe, which is why it is recommended for the entire family. Since this portable thermometer can capture temperatures with a gentle stroke of forehead, you can use it to measure the temperature of your infant with ease. You just have to stroke it over your Childs forehead and it will capture the heat from the temporal artery.
This temporal scanner thermometer can take 1000 readings in a single second and selects and displays the most accurate reading to you. The red LED light on the thermometer starts flashing when the correct scan appears and you can read it easily. The Exergen Temporal Artery Thermometer is powered by a 9v battery. The Exergen Thermometer is fast, accurate and very convenient to use and can even be used to obtain the temperature of a sleeping child.
Exergen Temporal Artery Thermometer
Fast, accurate, non-invasive
Safe and easy to use
Recommended for the entire family
Gentle stroke of forehead captures naturally emitted heat from skin over the temporal artery
Red LED flashes and soft beep indicates correct scan
Exergen temporal thermometer takes 1,000 readings per second, selecting the most accurate
Patented Arterial Heat Balance feature computes the correct temperature
Exergen temporal thermometer can be used on a sleeping baby
Exergen temporal thermometer may be used on children with ear infections
No probe covers required
9V battery included
Also available at Wal-Mart stores
Directions:
Instructions: . Safe, & Easy to Use. Remember to remove protective cap and read instruction manual completely before using. Step 1. Press and hold button. Step 2. Lightly scan across forehead. Step 3. Release button, read temperature. 1. With probe* flush on center of forehead, depress, button, keep depressed. 2. Lightly slide probe across forehead into hairline. 3. If perspiring, lift probe from forehead, touch on neck just behind ear lobe. 4. Release button, read temperature, Measures, arterial temperature. *Probe lens and cone should be shiny clean. If not, wipe with alcohol.
reviews
Love this product, I have a one week old and as new parents we are glad to have a product that works so quickly and accurately . It works on not only babies, but toddlers, youth, and adults. I plan to use this for ever.
I use this for an adult who is uncooperative. It takes about three seconds to swipe the forehead and get a reading. Readings are very consistent , also. Other reviews complained about the cap on the sensor not staying on. The company must have taken the suggestions to heart because the clear cap stays on my unit rather well. Very glad that I got this.
I was tired of fighting with my daughter trying to use the traditional thermometer. It took a long time to get a good reading. I like this temporal version because it's so easy. I usually take a couple readings to make sure I did it right and they always come back the same or different by a decimal.
Great thermometer. Easy to use. Seems to be more consistent and accurate compared to others I've tried on the market. I compared it to another thermometer we have that takes a lot longer but is accurate and they were both very similar in readings.
Works best and longest for the many I have been through
This thermometer is great. It is very easy and simple to use. It is much easier than trying to hold a thermometer under a squirming baby's arm. I would recommend it to all my friends.
I had previously bought this thermometer before and we really like it. Very easy to use.
I saw mostly good things about this. 91% would recommend. I must have gotten a bad apple. My kiddo was sick, I wanted a ear thermometer but oh well. I took temps on my 2 kids, myself and my husband. I got temps of 97-103. Even on repeat tries. Each time i took a temp it was different. It said I had a fever and my son who was sick didn't have a fever. Will return tomorrow.