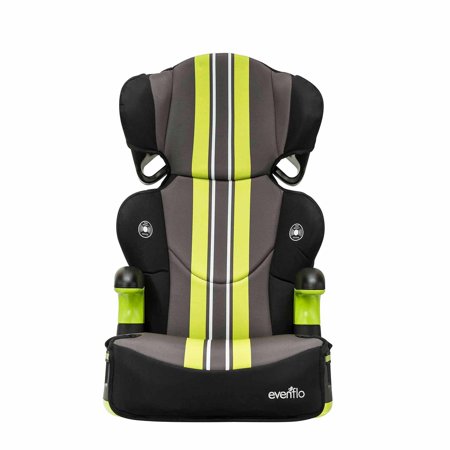 The Evenflo Big Kid Sport Booster Car Seat, with dual cup holders, will keep drinks and snacks close. The one-hand full-body adjustment allows the seat to be positioned at six different heights for a correct fit, and allows the seat to grow with your child. The removable back allows the seat to transition to a no-back booster when your child is ready.
Evenflo Big Kid Sport High Back Booster Car Seat, Grand Prix:
High back booster mode from 30 to 110 lbs and 38″ to 57″ tall
No-back booster mode from 40 to 110 lbs and from 40″ to 57″ tall
Removable back for easy transition to a no-back booster
1-hand, 6-position height adjustment to accommodate growing children longer
Removable and washable seat pad
2 elastic cup holders
Assembled weight: 10.5 lbs
Designed and tested for structural integrity at energy levels approximately 2X the federal crash test standard
Reviews
I was looking for a new seat for my ever growing 3 and a half year old.. to give you a clue he's about 55 pounds, tall, and wears a size 13 shoe, needles to say our old convertible car seat wasn't cutting it anymore especially with snow gear on (We live in Chicago). I saw this seat online, price was great, it looked stylish, and the measurements fit, I was in desperate need, so I called around to local Walmart's to find it in store. I picked it up the same day and Its been perfect. Quality wise it looks like a much more expensive seat, and my son now feels much more like the big boy he is. Additionally, this seats converts to a traditional booster seat which will come in handy in the future! I love it
I checked the Consumer Reports reviews prior to purchasing this car seat and it was rated very highly. After purchasing it I can see why. We bought it to transport our grandson in our vehicle without having to swap out car seats with my daughter every time we picked him up. It was extremely easy to install and is a great hit with our grandson. He loves the feel and ride of the seat. I would highly recommend it to anyone looking to purchase a reasonably priced booster seat.
I purchased this seat because it had a slim design. It fits nicely in my car. My son likes the cup holders and seems comfortable. Very easy to assemble.
This seat works perfectly for my toddler. My daughter used her seat from toddler age, until she no longer needed a booster. Then, it got passed on to Grandma because it is so light and easy to move and use. My daughter never wanted to take the back off because she liked having a place to lay her head. This seat is very durable and will last through many passengers.
This seat is a great bang for your buck! The seats are awesome, my kids can easily slide their seat bets through the shoulder guide, and the cup holders are fabulous! We have really enjoyed this purchase!
This car seat turned out to be a great choice!!! My little one loves the two awesome cup holders on the side and the fact it has a head rest for him to lay back on! Not to mention the cool colors and stripes! I would definitely recommend this one!
I bought this for more support than the backless Cosco booster and I will be returning it and continuing to use the cosco ambassador booster.