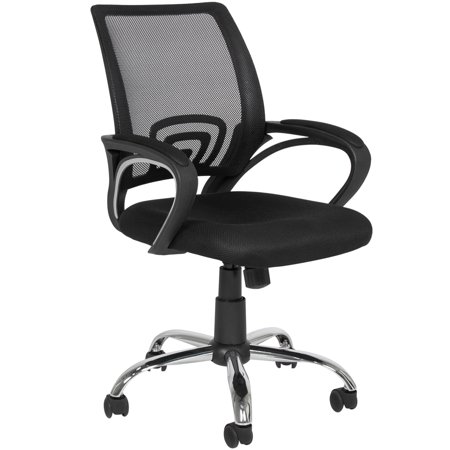 Best Choice Products present this brand new office chair. This durable chair combines contemporary style and comfortable design. It offers a strong and relaxing support for those long hours at work. Features a durable and breathable Air Grid mesh for back support, tilt adjustment, 360° swivel action, heavy-duty cushioned seat with wheel carpet casters and a heavy-duty metal base. We purchase our products directly from the manufacturer, so you know you're getting the best prices possible.
NEW PRODUCT WITH FACTORY PACKAGING
FEATURES:
Breathable Air Grid mesh built-in lumbar support
Thick, padded mesh seat
Heavy-duty metal base
Padded arm rests
Seat height adjustment
360° swivel action
2-in-1 synchro-tilt for adjusting the back and the seat together
Caster wheelsSPECIFICATIONS:
Adjustable height from 18″ to 24″
Weight Limit: 250 lbs
Seat Dimensions: 18″(W) x 19″(D)
Back Dimensions: 17″(W) x 20″(H)PLEASE NOTE:
Our digital images are as accurate as possible. However, different monitors may cause colors to vary slightly.
Some of our items are handcrafted and/or hand finished. Color can vary and slight imperfections in the metal work are normal and considered evidence of the hand-finishing process, which adds character and authenticity to those items.
Reviews
So far this has been the best chair for tall and/or heavy people. Even on the lowest setting this chair is perfect to get up easily. I bought it because of the weight limit of 250 lbs, most office chairs are recommended for up to 200 lbs. Regular hydraulic cylinders just do not hold up for extended use by heavy people and I have gone through numerous chairs that the cylinders wore out before the chair did. My only complaint is that I wish the arms would swivel up or at least adjust to other heights but they don't. I am long torso so my arms do not rest on the chair arms when sitting up straight. The lumbar support is also very comfortable and the metal base is very sturdy. The mesh back is nice to increase air circulation to limit sweating. It is also very easy to put together.
I absolutely love this chair! For the price it's better than I imagined. It is functional, sturdy, and very stylish, the mesh back with clam shell shaped back support gives it a chic appearance.
This chair seems to be sturdy, though it was a bit difficult to get all the parts to fit together. The only issue is that the seat area is quite narrow. If you're average sized or larger, keep this in mind.
I am so pleased with this chair for its comfort and easy assembly. I was shocked at how fast it arrived which was a plus also. Only negative thing I can comment on was there were 4 plastic caps to cover the screws after assembly, 3 of them were too big. I would definitely recommend this to a friend.
This item was very easy to put together. No hassles. It is very comfortable and mesh just as indicated. I had no problems with delivery or shipment. If you are looking for comfort and a chair that's easy to assemble then this may be the chair for you. I will recommend this product to a friend.
I purchased this chair for a home office environment. I work from home and am sitting for the majority of my 8 hour work day. This chair is very comfortable, supportive for my butt and back. The wheels are sturdy and I can roll around in my office area with no worries of them falling off! Highly recommend this chair!
This chair is very comfortable and has helped my husbands back. He sits for hours at his computer which used to bother his back and legs. He loves this chair as he can sit longer with no pain.
I thought from reading reviews i would buy this chair for the computer for everyone to sit on. But it's not a very big chair. The back doesn't even come all the way up to my sons neck or head and he is only 5'2". In fact the top of the back of the chair falls under his arm pits. I thought it would at least cover everyone's back area. The seat is not that wide nor comfortable. But the worst part of this chari was trying to keep the washers on and connecting the arms to the bottom of the chair. We ended up losing a couple washers and it is a major pain in the butt to try and put together. The bottom of the seat looks incredibly cheaply made also. I would not recommend this chair. I bought this for like 54.00 and a green Mainstays Desk Chair, Multiple Colors which was like 39.00 for my son's room. The desk chair is now in his room and the Mainstay chair is in the living room for the computer. The Mainstays Desk Chair, Multiple Colors is what I would recommend instead of this chair. It is padded better, easy, easy to put together, feels sturdier and seems made better. Plus it's a lot cheaper and back is high on your back.