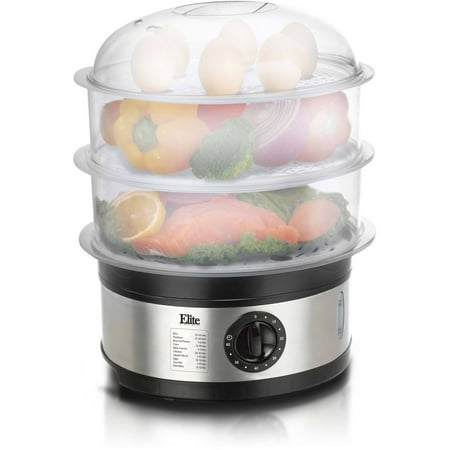 Upgrade your kitchen with the Elite Platinum 8.5-Quart, 3-Tier Food Steamer (Silver). It includes a steamer with an 8.5-quart capacity, two 3.5-quart bowls and a 1.5-quart bowl. This electric food steamer also comes with three BPA-free trays that are each equipped with six egg rests for boiling eggs. The trays are fully collapsible for easy clean up. Additional features include a water level indicator and an automatic shut off mode for added safety. The steamer has a brushed silver finish that will blend with many kitchen decors and a nested storage design for easy storing. Ideal for steaming favorite grains, vegetables, fruits, eggs, seafood, meat and poultry, this digital food steamer comes with a plastic lid with a steam vent.
Elite Platinum 8.5-Quart, 3-Tier Food Steamer, Silver
8.5-quart capacity
Triple tiered
60-minute timer
BPA-free
Two 3.5-quart bowls and a 1.5-quart bowl
Safety auto-off
Nested storage design fits neatly in your kitchen cabinet
Each tray comes with 6 egg-rests for egg boiling
Plastic lid with steam vent
Digital food steamer has a water level indicator
Trays are fully collapsible for easy cleaning
reviews
almost exactly what I wanted. Rice steamer bowl would have been nice.
I think this steamer is good one for the price and cooks great even using all the stacks at once. Getting the shipment to my home took and extremely long time and was just left on my porch after 7:00pm. But I'm still pleased with the steamer
Great steamer for a price, I've used it as soon as it arrived. It has the dripping tray for the oil or juice from my steamed foods like chivken or fish.
I like to cook on it
Steam a variety of foods with this Elite Platinum EST-2301 food steamer, which features a 3-tier design and collapsible steaming trays for simple cooking. The 60-min. timer lets you monitor the cookin...
Manufacturer provides 1 year warranty against defects.
Fast cooking kitchen appliance to steam food BPA free construction keeps the food healthy and the silver blends with kitchen decor 14.5 (h) x 11.25 (w) x 10 (d) (w/ tray and lid) provides space to ste...