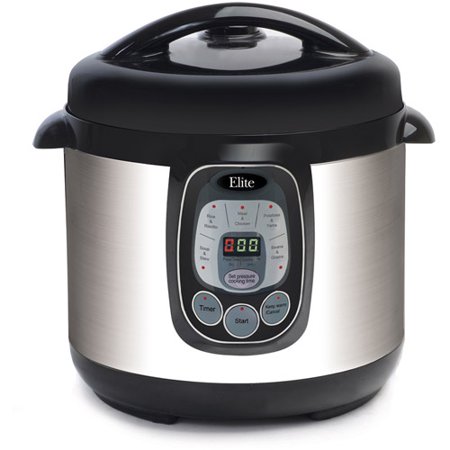 Whip up delicious, healthy and easy meals with the Elite Platinum 8-quart Digital Pressure Cooker. During the cooking process, steam is trapped in the unit resulting in evenly cooked food, and retained flavors. This unit provides functions for pressure cooking, stewing, braising, simmering, and roasting. Elite Platium 8-qt Digital Pressure Cooker:
Programmable preset delay timer for up to 9 hours
Touchable digital control with LED display to set and monitor cooking times
Removable pressurized cook time from 0-99 minutes for customized cooking
Automatic resumption of cooking when power is restored after a power failure
Quiet, easy, no stress cooking
Multifunctions including: rice cook, keep warm, soup, porridge, stew, steam
Indicator beep at end of cooking cycle
reviews
I had a 6qt for my family of 5. The 8 works so much better for us. Wish it came with recipes
I bought an Elite brand pressure cooker a couple of years ago and it is still working wonderfully. When you use a pressure cooker its good to defrost your meats and brown them before you actually cook them in the pressure cooker. You'll also want to pressure cook your meats before you add your veggies to them. Most meats like pork or beef will take about 20-25 minutes to cook then you let the pressure release. I don't fill the water too much, probably about 3-4 cups would be fine. You can then add your veggie and all of your seasonings and depending what it is you are cooking you will just need to cook it for a short period of time. Potatoes, carrots would probably take about 8 minutes versus cabbage that may take only 5 minutes. Anyway, there is a guide with cooking times for those kind of things that come with the Elite pressure cooker. I love mine and so does my family. I've made beef stew in 45 minutes.
I ordered this cooker but I should have order the 6 qt not 8 qt. Way to heavy for a 70 year old women. The lid was also hard for me to put on. Other wise for a younger person it would be fine.