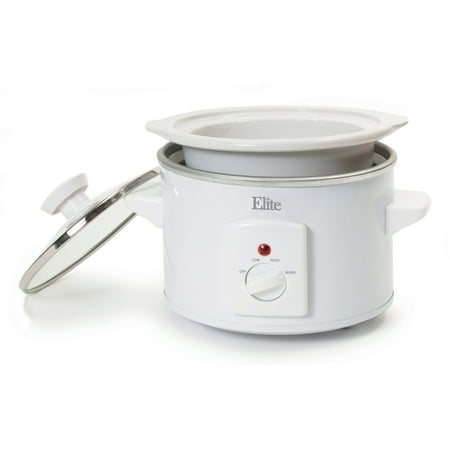 Serving dips and sauces has never been so simple with this Elite Slow Cooker, Cuisine. This 1.5-qt slow cooker is excellent for cooking hot, delicious dipping sauces. The white slow cooker features include a 1.5-quart removable inner stoneware pot and convenient low, high and defrost settings. This Elite Slow Cooker, Cuisine also has a glass lid so you can see what you're cooking up and cool-touch handles for safety. A 1-year warranty comes with this 1.5-qt slow cooker, which measures 8.5″L x 7.9″W x 7.6″H. Now you can set and forget it with this Elite Slow Cooker!
Elite Cuisine 1.5-qt Slow Cooker, White:
Removable stoneware pot
Cool-touch handles
Glass lid
1-year warranty
Dimensions: 8.75″L x 8.75″W x 7.4″H
Model# MST-250XW
reviews
It's just the right size. Getting my Mom one also!!
This is the right size for sauces, dips and a meal for two ;people. It heats up fast. It holds 1 1/2 qt. which is right size.
The mini crock is perfect for our family of two. The very best part is the removable crock for fast, easy clean-up.
this cooker works well, easy clean up, good temperature controls. just the right size for meals for one or two.
This slow-cooker is perfect for one or two people. It's simple, reliable, and easy to clean–probably. The only problem we have with this one is that the glaze around the bottom of the ceramic insert must have been a bit thin, so there is a slight stain from the very first meal I made with it (lentil soup) that does not scrub out. It does not affect the function, but with just a tad more attention to quality assurance, it might have been a five-star. But for the price, it's hard to beat.
I would highly recommend this item to anyone who works and wants a meal prepared to eat after work. It is the perfect size.
This is a great item it has off, low, and high. Put the chicken in and 8 hours later it was cooked just the way I wanted.. The only draw back was when you first turn it on it smelled like wires burning. But that happens with almost every new electronic product. I have COPD so I just didn't go in until my wife turned it off.