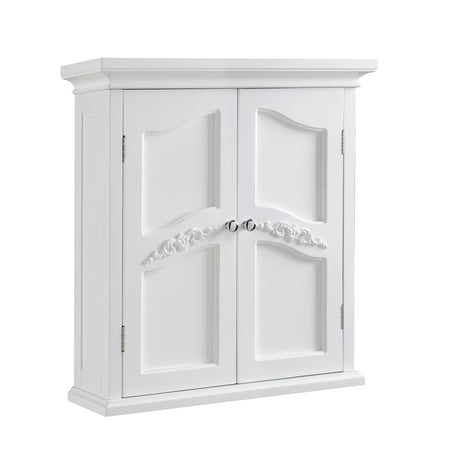 Store your bathroom essentials in the Elegant Home Fashions Bathroom White Wall Cabinet. If you don't have an existing medicine cabinet or would just like additional storage space, the Somerset Bathroom Wall Storage Cabinet is a smart choice. This white wall storage cabinet features two interior adjustable shelves, so you can keep items of different size, such as a cotton ball jar or medicine bottles. The Elegant Home Fashions Bathroom White Wall Cabinet has a classic look and an exquisite engraving on the door to add the finishing touch to your bathroom. This Somerset Bathroom Wall Storage Cabinet is attractive, as well as functional. Add more space and character to your bathroom with the Elegant Home Fashions Somerset Wall Cabinet.
Elegant Home Fashions Somerset Wall Cabinet, White:
Offers a classic look that complements any bathroom
Offers ample storage for all of your items
Features 2 interior adjustable shelves
Exquisite engraving on the door adds an elegant touch
Comes with assembly hardware
Material construction: MDF
Dimensions: 8″L x 22″W x 24″H
Model# ELG-W549
Warnings:
California Proposition 65 Warning: PROP 65 WARNING: Some furniture products can expose you to chemicals known to the State of California to cause cancer or birth defects or other reproductive harm. Please check the on-product label for warning information.
reviews
Nice cabinet for the price, did not take long to assemble Looks great.
I bought this cabinet to hang on my bathroom wall for more storage. I like that its a heavy duty hardwood and strong enough. I painted the trim work a navy blue to go with my beach theme bathroom. Makes a nice contrast.
No problem putting together. Looks very nice. Template included for mounting on wall. I did need help with getting it on the wall- it was too heavy for me to hold and screw in place alone.
My wife wanted this for a bathroom cabinet. It looks good, was easy to build and install and she has no complaints.
Extremely happy with this cabinet. A little smaller than what I had planned to use it for, but will use it anyways. A lot nicer than what the pictures show.
Was not the color I needed, but I sand down and stain it. Look great and just perfect size for what I needed. Very easy to put together. Thanks for great pricing!
Very nice cabinet for the money. Easy to put together and hang.
it was not what I thought it would be too small.