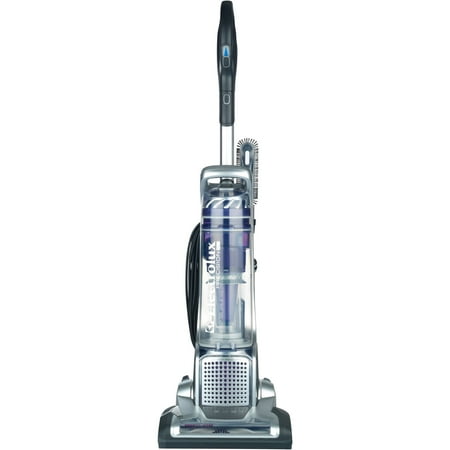 Take care of pet hair, dander and other unwanted dust and dirt when you clean house with this Electrolux Precision Pet Brushroll Clean Vacuum. This cleaning accessory has the power and performance you expect in a premium all-floors pet vacuum. The Electrolux el8811a precision vacuum has an award-winning Brushroll Clean Technology that removes tangled hair from the brush roll at the touch of a button. The deluxe pet dusting brush helps remove pet hair from upholstered furniture. Plus, the Electrolux vacuum has an anti-odor sealed HEPA filtration that neutralizes pet odors and captures pet dander. The filter can be cleaned. You get a bagless cyclonic system with this vacuum and a one-touch quick release wand that gets rid of dirt and other problems just like that. All this and more can be found in the powerful cleaning canister known as the Electrolux Precision Pet Brushroll Clean Vacuum.
Electrolux Precision Pet Brushroll Clean Upright Vacuum, EL8811A:
Brushroll Clean Technology cleans brushroll with the touch of a button
Deluxe Pet Dusting Brush and Turbo Nozzle
Electrolux precision vacuum , el8811a comes with bagless cyclonic system
One-touch quick-release wand
Adjustable cleaning height
Extra-long hose
Washable HEPA filter removes 99.97 percent of dust and allergens
reviews
This vacuum seems to be as advertised, I've had it less than two weeks. It is easy to use and there is a simple transition from carpet to tile. The extendable wand makes it easier to reach smaller spaces. The only negative for me is the noise, this is a loud vacuum.
I spent so many hours on so many websites comparing models and statistics and features that I started to questions my sanity. I guess I was looking for the Christ of all vacuum cleaners. I wanted the quiet suction power of one model, the maneuverability of another, the dust capacity of that one, the washable HEPA filter in this one, the retractable power cord of another, and the self-cleaning brushroll all in one super duper vac which had no negative reviews, and for under $200, on a site that would accept Paypal. Save yourself – after bug-eyes of research on more models to compare than my head could handle, there is no such Christ vac. I had to get over my concern of missing out on a feature and select one because, well, my floors were dirty. This Electrolux Precision Pet was the choice – it had the most features I admired and the brushroll self-clean technology was a top priority being tired of cutting long hair out of the rolls on previous vacs. It arrived promptly and after reading the negative reviews, I was very careful when removing it from the packaging – this thing was a heavenly sight to behold, seriously awesome quality, and fully assembled. My mouth was agape. Then I powered it up and cleaned the whole house – I fell over in joy – years of debris were supremely sucked up from the depths of the carpet pile; the rugs and carpet looked new again. I've never owned an upright and did not know this type of clean was even in the realm of possibility. Great dust capacity, safe to clean completely inside and out with warm water. Seamless change with one switch near handle from carpet to hard floors. Same for extracting the wand. I have fallen in love. I feel vac-blessed. It doesn't have a retractable cord or air hover forward movement but I am gratefully not disabled nor 80 and I'm pretty sure that's what it would take to make those issues a problem. To potential buyers as fussy as me, you should probably understand that either these negative-review-posts are bogus to purposefully thwart Electrolux, or the writers have some really bad vacuum karma, or they're not taking responsibility for what broke. I also broke the tool holder because, of my own error, I pulled over the vac and it fell onto it. I'm not taking a star off an outstanding machine for my inadequacies nor giving anything but the kind of review reflective of what this model of beauty deserves.
This might be the best vacuum I've ever owned is so powerful that sucks itself down to the ground and makes it actually a little difficult to move. But it pulled out way more dust then my Dyson and the HEPA filter works great I'm very pleased with this vacuum Electrolux is back.
Purchased to replace a high end Kenmore that was about 8 years old. Needed to reduce allergens, mainly pet dander and fur. I vacuumed with the Kenmore (it had just been reconditioned one week prior) immediately before trying this for the first time and I was shocked at how much more came up. The rugs looked more vibrant than it had in years, even in rooms where the carpet was only 1-2years old. Very, very impressed. I particularly like the built in wand/hose set up. Its great not needing to hunch over to get along the walls or under cabinets. It also is great for getting curtain tops or anything else high up.
Have had this cleaner since 3-4-15. It is very cheaply made. The tool caddy will not stay on the vacuum. It has plastic clips that break easily. Also the carpet and bare floor button flips back and forth on its own. Every time you wrap the cord it hits the button and flips it off. As far as suction it is good. Just not what I expected from Electrolux. Made cheap like everything else these days.