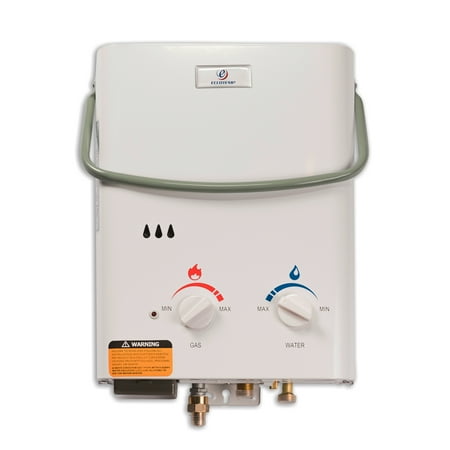 The Eccotemp L5 Portable Tankless Water Heater is the original and best-selling portable water heater on the market today. You get instant, endless hot water wherever you are. The Eccotemp L5 Portable Tankless Water Heater is perfect for campsites, cabins or simply around the house. Wash your car, wash your boat, take a hot shower, or even wash your horse. You can add the Eccotemp L5 Portable Water Heater to a pressure washer for an even better cleaning. This model includes an electronic ignition powered by 2 "D" cell batteries making it great for off grid or other areas where electricity is not readily available. The ideal operating range for the Eccotemp L5 Portable Tankless Water Heater is 20~80 PSI. The system also works great on modified water systems such as a 12-volt pump.
Rated heat input: 11kw
Rated gas pressure: 11″ of water column
Rated voltage: 3V (D Cell Batteries)
Gas Type: Liquid Propane
37,500 BTU
30 to 35 degree rise at 1.5 GPM
Manual water temperature controls
Battery powered ignition
20-minute automatic safety shutoff timer
Easy 3-step setup
Perfect for outdoor showers
Great for camping & family outings
Light weight
Compact & easy to store
reviews
Easy to install — works fantastic — fast delivery — great price
Good for out door fun and smart traveling, nice warm water, good to clean your pets on your travels. Useful for on the go individuals.
Price was right fast shipping, no more cold baths for my dogs, worth every penny
Only used it a few times so far but it works great. Pay attention to the fact that the heater requires a certain amount of in comming water pressure to opperate (20psi if i remember correct) I'm using mine in a camper with a water pump so I don't have preasure problems.
My mom recommended this water heater to me, she has the same one and is really happy with it. It arrived in time, was very affordable, and very easy to install. We had to fuss with the knobs quite a bit to get it properly regulated, but once we did, it has been working great. It's so nice to have as much hot water as you want anytime you need it !! I wish the instructions had been a bit more specific about how to regulate the water, it would have been extremely frustrating had we not been able to ask my mom how she got hers to work. All in all I'm extremely happy with this product
I had returned the first heater I purchased because the flame did not stay on for 20 minutes as indicated in the manual. The new heater I received works as it should.
I have used one of these units in the past and it performed very well. I was surprised to see tephlon tape already showed use and water exited the unit when I took the protective plugs off. I was suspicious of this unit before hooking it up. When everything was complete, the unit failed to auto start and the water pressure was a slow trickle. To bad. I was sold on these units. I will probably try to return and re order, hoping this was a packaging mistake.