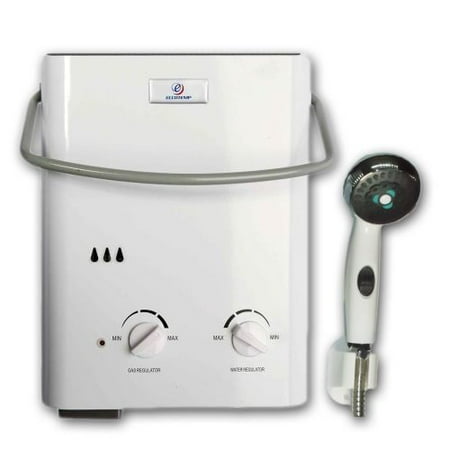 Liquid Propane Outdoor Portable Tankless Water Heater
The Eccotemp L5 Portable Tankless Water Heater is the original and best selling portable water heater on the market today! You get instant, endless hot water wherever you are! The Eccotemp L5 portable tankless water heater is perfect for campsites, cabins, or simply around the house. Wash your car, wash your boat, take a hot shower, wash the dogs or the horse. You can add the Eccotemp L5 portable water heater to a pressure washer for an even better cleaning! The ignition is with 2 "D" cell batteries so it makes it great for off grid or other areas where electricity is not readily available.
The ideal operating range for the Eccotemp L5 portable tankless water heater is 20-80 PSI. The system also works great on modified water systems such as a 12 volt pump. This unit requires a 2″ clearance from a wall, 1′ side to side from anything flammable, 3′ from a window as well from an overhang, and 18″ from the ground. The L5 will offer a 35 to 40 degree rise at 1.3 gallons per minute.
Features:
1 year manufacturer warranty on the unit
Portable
20 minute automatic safety shutoff timer
Includes CSA regulator for use with standard 20 lb grill propane tank
Battery igniter means no electricity needed
On / Off shower head included
Garden hose adapter included
Specifications:
37,500 BTUs
Height: 14-1/2″
Width: 11-1/2″
Depth: 4-1/2″
Weight: 12 pounds
1.3 GPM
Eccotemp Systems, LLC is a manufacturer of energy efficient products located outside of
reviews
I just received this in the mail. It was easy to assemble and immediately fired up well, producing hot water instantly. I plan on using it to wash my horse in the barn on cold days, not sure how the water pressure will be but the water willsure be hot enough! Recommend
Great item, sprayer handle shut off broke on 4 th use. But other than that it gives you what it says hot water instantly.
I bought this mainly to wash down my black lab retriever with his thick coat during duck hunting season. I was concerned that the pressure wouldn't be very good and have enough to adequately penetrate his thick coat. The shower head has 3 different streams and when I started the unit I was very happy that I bought this product. I will also be using it as an outdoor shower. My hunting dogs will now be getting a nice hot shower outside when we come in from the fields. I am very happy I bought this product.
I am happy to buy this and use it. Heats water very well.
It came damaged with a big dent in the side.