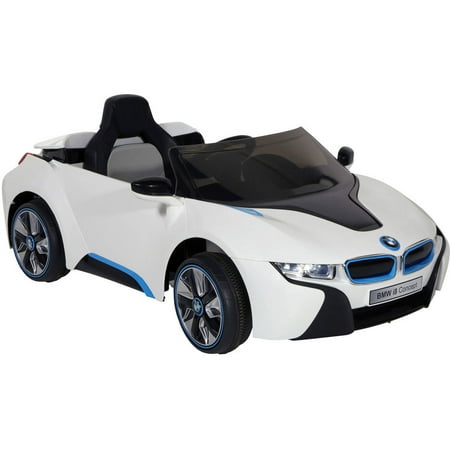 Little ones can ride with style in the Six-Volt Dynacraft BMW i8 Concept, which features working LED headlights, realistic interior detailing and the authentic BMW i8 look and emblems that mirror the life-size vehicle! The interior is packed with innovative, top-of-the-line features including MP3 input with loudspeakers. The Six-Volt Dynacraft BMW i8 Concept is equipped with 2.5 miles per hour maximum speed and forward and reverse driving capability. Super-sporty wheels and edgy details ensure this ride is the ultimate driving machine.
Dynacraft 6V BMW i8 Concept:
Charge time: 8 hours
Run time: 45 minutes
Number of speeds: 2 (forward and reverse)
Top speed: 2.5 mph
Age range: 3 years and up
reviews
Great product. No complaint
Easy to assemble! It's charging so haven't driven it yet. It's a small battery so not too fast which is perfect for the sidewalk and parking lot!
Love this little car. Just right for my grandbaby.
I purchased this car as a Christmas gift for my grandson. He loves it!
Me and my boys love this. They are 2 but still learned how to use it. I have seen a version of this car that has doors that open and horn noises (more exspensive) but this car was perfect for my twins. It was fairly easy to put together as well. The only negative is that one of the car had broken pieces where the battery went. It was covered and under the seat so no harm no foul in my book.
We bought this car for my 5 year old. It is cheaper, but it requires a handy person to put it together. After 4 months the car quit going in reverse. We bought the warranty and they were very easy to work with when the car quit working right. I would say this is better for a child under 5, more like 3.