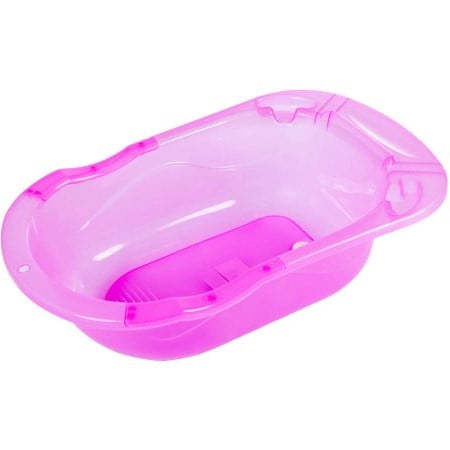 Fundamental and practical in design, this baby bathtub accommodates babies six to 12 months. It features a drain plug for easy and convenient emptying, a non-slip bottom and easy-to-care-for, durable plastic. Clean the tub with a non-abrasive soap and wipe with wet cloth. Bathtub is manufactured with a durable polypropylene material. It is tested for lead and other toxic elements to meet or exceed government and ASTM safety standards.
Dream On Me Classic Baby Bathtub:
Suitable for age 6 – 12 months
Maximum weight: 25 lbs
Drain plug
Non-slip bottom
Smooth easy to clean surface
reviews
I got this beautiful product for wal mart to make a beautiful exhibits for my turtle. She enjoys swimming in it. must buy for turtles not only for baby's.
I love this tub! It's perfect for my 7month old daughter who doesn't stand on her own yet. I love the drain feature! The plug stays open on it's own and tub base is raised just enough for the water to run out. No need to tip the tub to drain! I can just unplug the drain, rinse the soap off my baby and lift her out to dry her off! No need to go back to drain the tub!
this is the most spacious bathtub for the baby that I was able to find. We love it and it gives a baby some room to move and swim. At 8 months we are still using it.
I've got 2 expensive tubs before getting this one and guess what? This one came out to be the best. It's wide, light and smart-shaped
Lightweight and easy to lift while holding a toddler. There should be some installed grips on the base. My toddler was slipping and sliding upon the first and second use. Then he got wise and learned how to stay scoot his bottom to the end. He loves it regardless because he can move around without anything sticking out of the bottom.