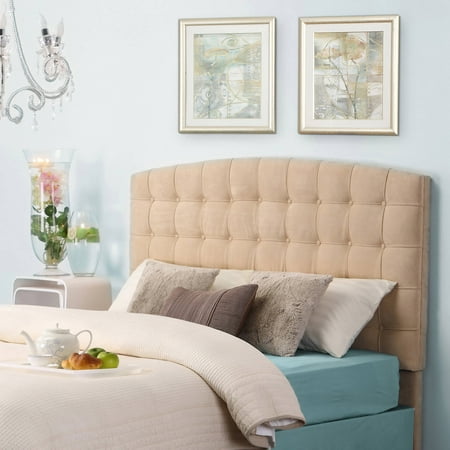 Update your bedroom with the Dorel Living Torino Padded Tufted Headboard. This tufted headboard will fit well with a variety of decor and can also accommodate a full or queen size bed. The tufted upholstered headboard is thickly padded with tufted details for style and comfort. It will make your evenings spent watching TV or reading more enjoyable. This Dorel Living Torino Padded Tufted Headboard is upholstered with microfiber for a sophisticated look that adds a romantic touch to your bedroom. This piece is the ideal choice when you want to update a room, especially your bed, but want to combine luxury with comfort.
Dorel Living Torino Tufted Microfiber, Multiple Colors, Multiple Sizes:
Microfiber
Thickly padded with tufted details for style and comfort
Can accommodate a full, queen, or king size bed
Bed rails and mattress sold separately
Full/Queen Size assembled dimensions: 5″D x 64.25″W x 54.875″H
King Size assembled dimensions: 80.5″W x 4.75″D x 54″H
Beige Model #: WM4015H-FQ
Chocolate Model #: WM4015HFQ-BR
Minimal assembly required
1 year manufacturer's warranty
Mattresses sold separately.
Bed frames sold separately.
reviews
The headboard was beautifully made and better than I expected. I am pleased, I would recommend this headboard to others.
This headboard made my bedroom look elegant, perfect size for my queen bed. Unbeatable price, very happy with my purchase will recommend to family and friends.
I was looking for a headboard that would be cozy and beautiful. I'm so happy with my choice. Delivery was pretty quick via FedEx. Assamle time was a few min for just one person. It is pretty heavy for a woman to set it up alone but I've managed it. I did not attach the headboard to the frame (though there are all the necessary holes and hardware for that) because I am just not able to move the mattress on my own but it doesn't bother me at all. I can ask for help but there is no need for that:)
The headboard is gorgeous! I don't have the frame attached yet but if that works out, all will be great…very happy with my purchase so far.
We took our massive sleigh bed down and wanted to have more room in the bedroom. We wanted something simple and comfortable and straight up and down without breaking the bank. We selected this headboard, in the chocolate brown microfiber (which is so easy to clean). Shipping was fast, it went together easily, the only issue was the slots to attach your metal frame weren't completely lined up. My husband was able to work the frame so that we could attach. I must say, I was very pleasantly surprised. It looks great, not too high, and after smacking my hand on a wooden headboard all the time when I would turn over, it felt awesome to smack my hand on a padded headboard. We both thought the room looked great….worked well to showcase the bedding and I would recommend it to anyone who didn't want to spend a gazillion dollars on a frame. It's pretty nice for the money
This is an inexpensive headboard. It's not super-sturdy, but it does the job. Bought it in the dark brown color for my 80 year old father. I wanted something soft in case he hits his head on it. It's attached to his Reverie adjustable bed frame. Two of the tufted buttons were detached when the headboard was delivered. He didn't mind, so it didn't seem worth the trouble to return it for another. Time will tell how well this headboard will hold up, but for now we are pleased overall. It's not great quality, but the price reflects that. If you don't want to spend $600, this will work.
This headboard was delivered 4 days after I ordered it! It came so quickly, and it fit perfectly. It was the best deal I've seen on headboards, and the quality of the product was unbelievable. This was a great buy!
This headboard exceeded my expectations. It is very easy to assemble and looks much more expensive that it actually is.
This headboard is beautiful and arrived in excellent condition (except for a small tear in the back cover fabric which can't be seen). It is sturdy and looks great in my bedroom. Gives a cozy feel to the room. I bought the light beige color (was debating between the dark and light). I sprayed it with Stain Guard just to make sure it will clean easily. I highly recommend this headboard!
Even though the headboard was big and cumbersome, it wasn't heavy, so I can't understand why someone would use a forklift and spear the box and damage the headboard. I immediately returned the item for the refund, were still trying to decide if we want to order again, especially since the price of the headboard went up $20.