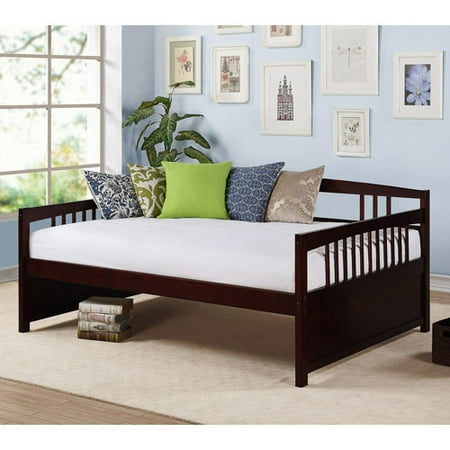 The Dorel Living Morgan Full Day Bed is a versatile piece of furniture that can be used for both seating and sleeping needs. The clean lines and rich espresso finish allow the day bed to blend into existing living room decor while instantly offering extra sleeping accommodation for guests. It can be displayed minimally, or dressed up to reflect your style with decorative pillows and throws, providing an extra-cozy space for reading, visiting or relaxing. The day bed comes with wooden slats, so no box spring is required.
Dorel Living Morgan Full Daybed, Espresso:
Made with clean lines that will blend easily with existing decor
Wooden slats
Material: pine and spruce
Espresso finish
Mattresses sold separately.
Arrives in one box
Minimal assembly required
1-year warranty
Model# DA6312E
Box spring not required for wood daybed, espresso
Full size: 77-1/4″W x 56-7/8″D x 34″H
reviews
We are happy with this beautiful daybed. It was not as hard as expected to put it together. I recommend taping the rails together to keep the slats together.
My granddaughters husband put the Dorel full size daybed together it took him about two hours to get it together even with my supervision lol it is beautiful and if I had to purchase another one I would definitely recommend it. Our dogs love the daybed too. It wasn't as bad as some people thought and I would highly recommend this item. Thank you.
The only reason I gave 4 stars instead of 5 is because the assembly was a pain….but this daybed is seriously beautiful…it's hugeeee too.
The bed is constructed fairly well for the price, but putting it together on your own will become frustrating as you try to align one bedpost with dowels, side frame slats, bottom rail and a side panel, and then attach to the opposite bedpost with everything staying aligned while unsecured. IF YOU MUST BUILD ON YOUR OWN, my advice is to completely construct and secure one side (I did the "left" side per the instructions – parts L &M…so at least one side was stable) and then slide the whole thing into the opposite bed post (A & B). The very top board (part G, that attaches to the board below with slats, part H) will need to be "worked" from left to right, while you add the side frame slats one at a time until you get to the end, adding the last slat, and then secure it to the opposite bed post. Be prepared for the slats to fall out until you get the hang of it. I eventually sought a helper to align, attach and secure the front and back rails (part D). The back frame slats kept falling out when I tried to align and secure them on my own, so for sanity's sake, my daughter stepped in to save the day. After that, the bottom slats (that support the mattress) are a breeze to install. Good luck!
A bit tough to put together, needed a helper, but once done; about 2 1/2 hrs; It was a very sturdy and pretty daybed. All pieces labeled well.
Besides the bed being very difficult to put together. Most holes were not pre drilled, the wood had pieces missing from it and stained over. After we started putting it together we noticed a long white mark all the way down the very top of the daybed. It would not come off nor any way to hide it. Sending this back.