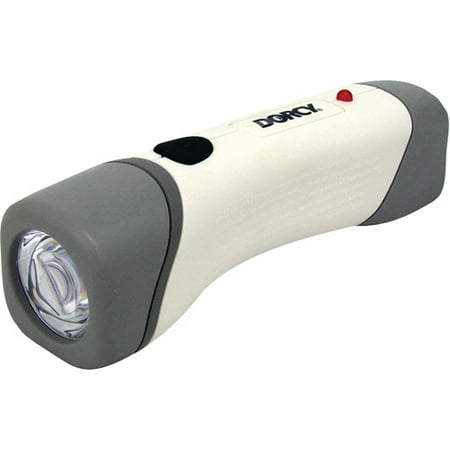 The Dorcy LED Rechargeable Flashlight, 411045, is designed to shine a light as soon as the electricity goes out. Simply plug the flashlight into a regular wall outlet, and it will charge. No need to scramble for batteries. If the electricity in your home goes out, the Dorcy Rechargeable Flashlight will instantly come on, allowing you to see in your darkened home. It comes with a durable slide switch for easy on/off. The Dorcy LED Flashlight is white with charcoal-grey accents and a red charging indicator light. Keep this practical flashlight in your kitchen or the central-most room of your home to light up the dark during a storm or power outage.
Dorcy 411045 LED Rechargeable Flashlight:
Turns on when power fails
Durable slide switch
Convenient built-in charging adapter
reviews
Always ready when you need them great product
I really liked the flashlight. It is bright and compact, but for some reason now after two weeks, it will not stay plugged into the outlet. It pops back out. It may be that it was taken off the wall to hurriedly but I can't seem to find the trick to keeping it in.
Flashlight is great! It holds a flood charge and is really bright.
I was hesitant to purchase these online (I like to "see" things before buying) as they were gifts for 4 families. But when I opened them, as small as they seemed, they're quite powerful! LED bulbs are nice and I like that they plug into outlet as to not misplace them when needed!
Dorcy Rechargeable Flashlight. Had for only 6 months, now it won't charge. Can only contact company by e-mail, no response. Had it to long to return to Walmart. Should have bought another Energizer Rechargeable instead.