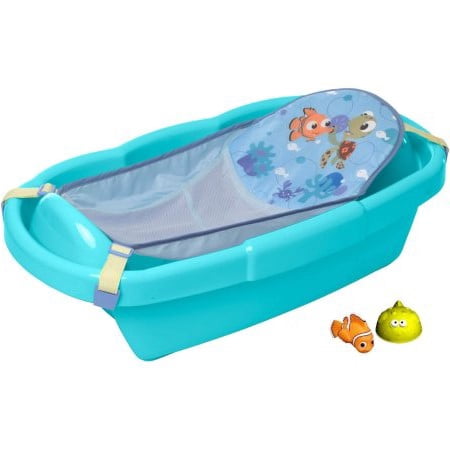 The Disney Pixar Finding Nemo Infant to Toddler Tub takes baby through three stages with a large mesh sling for newborns along with infant and toddler positions. The reclined backrest and soft foam padding offer comfort, while the shell-shaped design and Nemo-themed toys add a touch of seaside whimsy. Swim, baby, swim!
Disney Pixar Finding Nemo Infant to Toddler Tub, Blue:
Newborn, infant and toddler stages
Large mesh sling for newborns
Fun shell design
Soft foam pad on reclined backrest for added comfort
Includes a Bloat pour cup and Nemo squirtee
Mildew-resistant pads
Netting is machine washable and dryable
Dimensions: 16″L x 27.5″W x 8.25″H
reviews
Comfortable for baby to be in, very adaptable to use while baby grows, plug at bottom makes it easy to empty, toys that come with it make it fun.
My baby just turned 6 months and is 27 inches tall. We changed the bathroom faucet to a kitchen faucet with the pull out hose sprayer. We used the sling for the first 2 months, placed it on the bathroom counter and sprayed her so we didn't have to submerge her so I never worried about her safety. From 2 months until now we place it in the bathtub and fill it halfway up to bathe her. We love it's contoured seating and cushioned back inside so she's comfortable. I can't use it past her first year because she's very tall but I've found another tub for her next few years. I don't use the toys that came with it but they're ok. I don't believe toys are for bath time, just get the baby in and out as soon as you can for safety, but that's a personal opinion.
Found this bathtub at Babies r Us so much more expensive. Glad Walmart carried it
This tub is amazing! my son fits in it perfectly without falling over or sliding all over the place. I love how the head rest (on the plastic part of the tub) has kind of like a non slip grip on it. My son loves it! I love it! So glad i bought this one!
My son is so wabbly that itnwa hrd to bath him in he regular baby tubs without a mesh, so the mesh and stop in thentub makes it so he doest slide around, money well spend. We love it!!
This bathtub has most of the features that our current bathtub has, for half of the cost. I would definitely recommend it. The feature that it is lacking but desirable is the plastic hook that allows one to hang it to the wall. I personally think that the hook would be a space saver and allow the bathtub to drain and air dry completely. I do like the foam padding very much, and wish we had this before. The padding is non slippery and adds some cushion between the baby and the hard plastic. But I would have wanted it to be lined all the way through the back rest, not just a potion of it. Other than that, I also like the pretty blue color for boys, and the two fun toys it came with. It seems to be a bit bigger than our current tub too. All in all, I think the bathtub has great features and will probably replace our current tub with it.
The plug at the bouton is leaking, there was water everywhere.