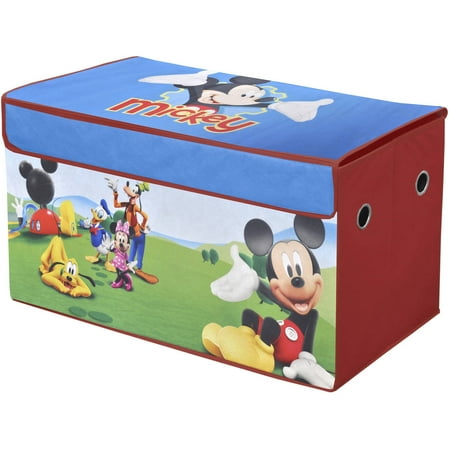 The Disney Mickey Mouse Storage Trunk makes a perfect addition to your child's bedroom, closet or playroom. The storage trunk is an easy way to maintain clutter while adding a playful accent. Your little one will love to put away all their toys, books, clothing and more in this spacious storage trunk featuring his or her favorite character. It's made of a soft canvas material, so you never have to worry about the lid slamming down. Collapsible and lightweight, our Mickey Mouse collapsible storage chest is perfect for storing just about anything. When not in use, it can fold down flat and be tucked away. This product is not meant for being sat or stood on.
Disney Mickey Mouse Collapsible Storage Trunk:
Features classic Mickey Mouse designs
When not in use, item can fold down flat and be tucked away
Collapsible and lightweight, perfect for storing just about anything, including toys, books, games, clothes and more
Soft canvas material makes item child-friendly and easy to use
Dimensions: 30″ L x 14.5″ H x 16″ W
reviews
I bought this for my 1 year old son. I was in love with how big it is and much stuff can go in it. But I'm kinda sad now cause he decided to get in it to play one day now the front is all bowed out. Also I tried to pull it with the strip on the side and it ripped. Other then that it's still holding up good. I just have to kinda smash it a little to close it, because its bowed in the front.
This fits so much! Really helps clean up the room and adds a fun aspect to storage. Huge plus = easy to travel with!