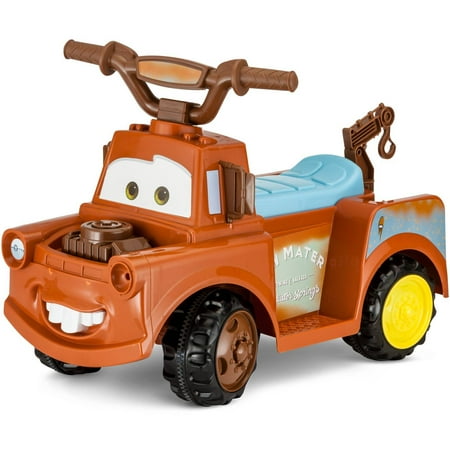 Meet Mater, your little one's newest tow truck pal! Any little Cars fan will have a wonderful time tooling around on this charming Disney Cars Mater 6V Battery-Powered Ride-On Quad. Mater is the big-hearted best friend of Lightning McQueen and a gentle goofball. This Disney ride-on can move forward at a maximum speed of 2 mph, offering a safe and serene ride. Mater's handlebars make the ride even more comfortable and easy to control. The Disney Cars Mater ride-on is made for kids ages 18 months to 3 years, and comes with a charger and treaded ATV wheels. He's sure to bring a joyful smile to your child's face time and time again.
Disney CarsMater 6V Battery Powered Ride-On Quad:
Favorite Disney character design
Top forward speed of 2mph
Disney ride-on age range: 18 months to 3 years
6V charger included
Tough treaded ATV wheels
Safe speed for small children
Comes with a 90-day warranty
Lead acid, non-spillable battery type
Featuring Mater, the favorite best friend of Lightning McQueen, from the hit animated movie Cars
reviews
Made our 2 year old grandson extremely happy. Easy to drive for the suggested age level.
I bought this for my 2 year old, and he can't stay away from it! It has taught him how to get on and off a ride on toy, how to steer away from obstacles, and even how to say "truck." I think it is a fun way to learn some motor skills.
Who doesn't love Mater and this riding toy is definitely not a disappointment. Luckily it was charged for Christmas cuz once he came out, someone was always on it. Even our youngest grandson, 14 mos, would give it a try.
My little 3 year old grandson loves Mater from the Cars movie and was so excited to receive this Mater ride-on toy for Christmas! He was riding on it and saying, "I'm Mater! I'm Mater!" Toy appears to be durable and should last a long time. Perfect for a little child to ride on.
I bought this for my grandson who is one years old it is very easy for him to use with the push of a button he loves it so much.
grandson loves it. it is quality and works real well. it is sooo cute.
Bought this for my grandson's 2nd birthday and would recommend it to anyone looking for an adorable ride on toy. Easy for them to use, durable, great value and the service warranty for 2 years for $4 was an added bonus. Mt grandson just loves it!
The quad was perfect drove good was super cute my son loved it but we realized the charger was missing so we returned the item & reordered it again. The second time we ordered it before we left the pick up location I checked to see if that one had a charger it was also missing. The description says charger included so not sure what is going on!