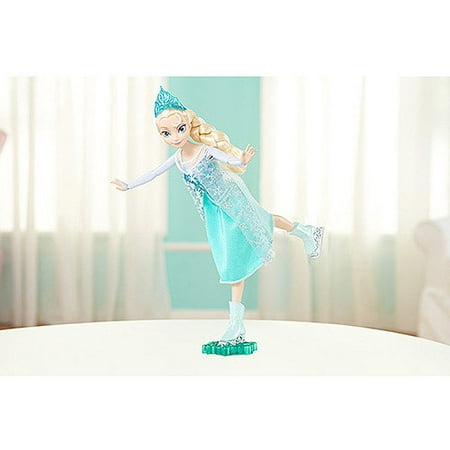 Kids can join the royal sisters from Frozen for ice-skating fun around the kingdom with the Disney Frozen Elsa Doll. With just a simple push, this cute character glides gracefully back and forth, arms and leg moving elegantly. Children can re-create the movie moment when the sisters ice skate to celebrate the end of winter or they can make up icy cool adventures of their own. To use the skating doll, you simply need to attach it to the base, which takes only a moment. From there, the Disney Elsa doll offers a unique ice-skating fantasy that is inspired by the film. Children can also style her beautiful blonde hair, creating new looks and enhancing her beauty. If your little one loves Disney's Frozen, she is sure to enjoy this skating doll.
Disney Frozen Skating Elsa Doll:
Re-create magical movie moments with the help of this Disney Elsa doll
Make up new adventures, creating beautiful routines
Attach the Disney Elsa doll to the base for easy ice-skating action
Roll her forward and her arms and legs move in elegant ice-skating form
Beautiful ice-skating fashion inspired by the movie
Size of skating doll: 12.75″H x 9″W x 3.38″D
Reviews
This doll is made well for the purpose of "ice skating". She is flexible and flows nicely while rolling her on ice skating foot. She is also able to ice skate without the extra foot piece attached. The only thing is that she is not able to stand, and is so "bendy" that ice skating is pretty much her only purpose. Imaginative play is lots of fun with this doll though, and the fact that she is able to skate gets a ton of laughs out of preschooler every time. I specifically gave Elsa 5 stars because she truly is a pretty doll. Lots of attention to the detail on her expression and a beautiful dress that is certainly well made. I would certainly recommend to a friend.
Originally I bought one as a gift for my daughter's friend's birthday. My daughter was so amazed by it that I bought another one for her. It's been her favorite toy for over a month now! She'll sit there with the doll and watch the Frozen movie. She takes it everywhere with her. Seeing her so happy, I'm very glad I bought one for her.
My order was delivered promptly and in good shape, A small child will enjoy these dolls, hopefully.
Very pleased. Works exactly the way it was presented. Made my grand- daughter very happy.
Looks really good – the toy is a Christmas present so I'm sure she will love it !
This is a wonderful item. It is well made for rough play and my daughter absolutely loves it! Highly recommended.
Package was in terrible condition; plastic was ripped in tree places, box smashed and looked like the corner had been chewed. Of course this doll is now sold out – EVERYWHERE! Very upsetting.