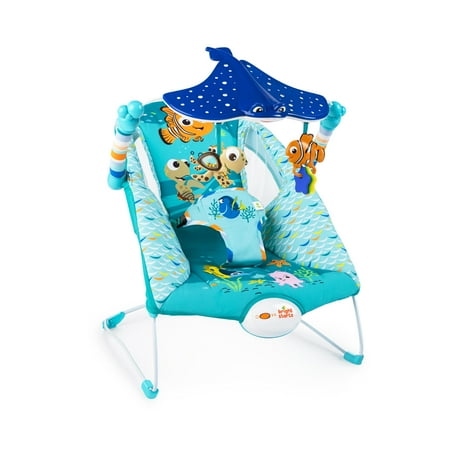 Searching for Nemo? He was here, the whole time! Let baby pal around with Nemo, Mr. Ray, Squirt, and friends in this bouncer seat. This lightweight bouncer has all the soothing features baby needs — like soothing vibration, a deep cradling seat, mesh panels for airflow, and, of course, some of your favorite Finding Nemo characters. The engaging toy bar creates an underwater experience for baby with Mr. Ray. A baby-safe mirror under Mr. Ray allows baby to see themselves and the hanging toys. The toybar also features Nemo and Squirt interactive toys that can be removed for take-along fun. The seat pad is machine washable. A 3-point harness and non-skid feet keep baby secure. Find more fun with Finding Nemo and Disney-themed baby gear, from Bright Starts!
Large baby-safe mirror for self-discovery under Mr. Ray
The Nemo and Squirt interactive toys are removable for fun on the go
Toy bar removes for easy access to baby
Soothing vibration to calm baby
Deep, cradling seat features mesh panels to provide extra comfort for baby
Lightweight for easy transport
3 point harness and slip-resistant feet keep baby safe and secure
When things get a little messy simply toss the seat pad in the washing machine
reviews
Can't wait until my little one can watch Finding Nemo. This is the perfect and fun intro to the seeet fishies!
The functionality of the seat I love to include the deep seat, vibration, and mesh sides. It is light weight and easy to move. Personally I don't prefer character things. We love memo and friends, I just don't want it on a bunch of our baby stuff.
Fun little features for baby to be entertained! Lightweight and portable and easy to operate!
This product is so sweet and happy! Great quality and very easy assembly.
We had a hard time attaching the accessories, but realized that was just operator error ;)…All good now!
This bouncer is great in that it keeps the baby entertained while being safe and very stable; especially once the legs start kicking with excitement!
This item has been great for my son- he grew much quicker than we anticipated but he still uses this bouncer as a seat of sorts for when he is being fed solids. The overheard entertainment piece doesn't do anything but it is of good quality and it something for the baby to play with and look at.
This bouncer is super easy to put together! I love that it is light weight and not too bulky. You little one will love the vibration. The colors and toys will keep your baby entertained for a long time!
This bouncy seat is extra comfortable! The overhead toys are bright & fun for my little one.