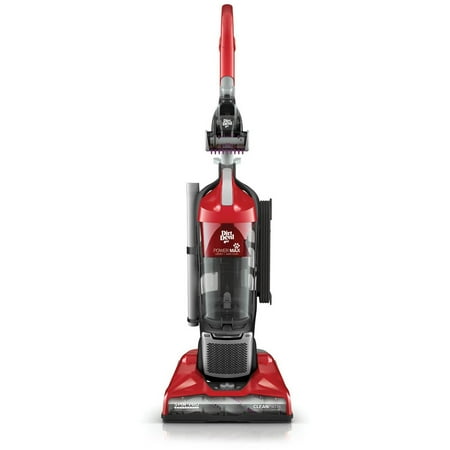 Tackle pet hair with ease with the powerful Dirt Devil Power Max Pet Bagless Upright Vacuum UD70167. The new Spin-3 Pro Brushroll powers through animal hair on both carpet and hard floor surfaces, while the 10′ cleaning wand and pet hair turbo tool makes cleaning your stairs, upholstery and hard-to-reach areas easier than ever. The odor-trapping carbon filter provides a finishing touch, minimizing bad odors for a fresh clean every time. The Dirt Devil upright vacuum has an extra-large dirt cup that empties with ease to collect and remove pet hair and the claw tool grabs fur on upholstery and stairs. All the accessories will be close at hand because this bagless vacuum cleaner has on-board storage and the cord wraps neatly around the attached hooks.
Dirt Devil Power Max Pet Bagless Upright Vacuum, UD70167:
Powerful suction
Spin-3 Pro Brushroll technology cleans both carpet and hard floors
Odor-trapping carbon filter
TurboClaw pet hair tool
10′ extension cleaning wand
Bagless vacuum cleaner with extra-large dirt cup
4-level height adjustment
2-in-1 crevice tool
8′ cleaning reach
1 year limited warranty
On-board tool storage
Attached hooks for cord storage
reviews
I wanted to give this a fair trial run before I posted a review. I've used this for about 6 months now, and overall I'm pretty satisfied with it. A $60 vacuum is never going to do what a $200 vacuum is going to do, so if you're buying this with that expectation, you're going to be disappointed. As far as an upright vacuum goes for carpeted floors, I'm rather neutral. It basically did what any other vacuum would do – got a lot of stuff up, but I'd still find some fur and kitty litter tracks upon looking more closely at my carpet. For hard floors, it's adequate. Its rebounding quality, however, is the Turbo Claw attachment. This is AMAZING at getting fur off of furniture, and cleaning up what the upright may have left behind. Its rubber "claws" help grasp stubborn fur so that the vacuum can suction it up, and the "wand" is very ergonomically effective (it greatly reduces the amount of bending, stooping, etc., that you have to do). I love this attachment so much that I often use it to vacuum bedding before putting it in the washer (anyone who has pets who sleep with them knows the struggle of getting all the fur out with just washing). It's overall suction is pretty impressive for an inexpensive, light weight vacuum, and it does what I need it to do. The HEPA filter works great and I don't have allergy symptoms after vacuuming like I do with other vacuums. It's also very easy to take apart and clean, and as far as mechanical problems – I've had none. For the price, this is an excellent product.
I have only had this vacuum cleaner for 2 days and I love it, we have dogs in the house and our other vacuum quit working so I bought this one and it picks up dog hair better than our previous vacuum, I will definitely be purchasing Dirt Devil products in the future, Thanks
been using dirt devil for many years no major problems other than replacing belts or brushroll very happy with product
This product works extremely well at picking up pet hair. I would definitely recommend it to pet owners.
Very Good product at a reasonable price. My family is rough on sweepers so this is holding up well and doing the job. Thank you
I have had this vacuum for months. I will never get a vacuum from this company again. Even if it was free. It doesn't suck up anything. Everytime you use it, you have to unclog it. My old bag vacuum worked 10x better. Don't waste your money.