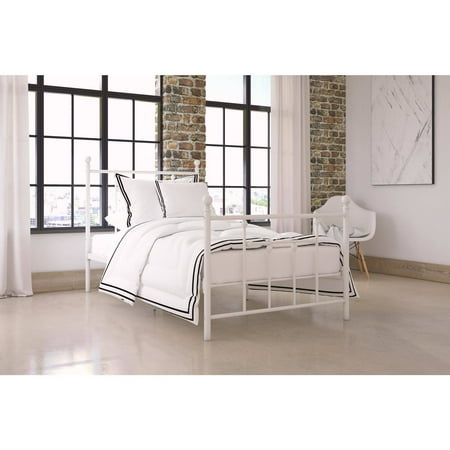 Metal beds are all the rage nowand you can see why. This metal Manila bed not only commands attention, it also offers the perfect balance of modern sophistication and Victorian detailing, combining straight lines with rounded finial touches for a look youll love for years to come. The solid metal slats are designed to provide ample support and durability and allow air to circulate under the bed to help keep your mattress fresh for longer. It also means no box spring is needed! The sturdy legs and extra centre support further add structural strength to help you get a great nights sleep. The Manila bed frame is available in stunning white or reflective bronze in your choice of twin, full or queen sizeso this luxurious bed will fit seamlessly into your space and colour scheme. Dorel Home Manila White Metal Bed, Multiple Sizes:
Sturdy metal frame
Modern design with Victorian style finial detailing
Metal slats offer support and durability
Metal slat base allows air to pass freely beneath your bed, keeping your mattress fresher longer
Available in twin, full and queen size, in white or reflective bronze metal
Accommodates any standard twin, full or queen size mattress, sold separately
Additional foundation not required
Assembles quickly
Ships in one box
Twin Bed Dimensions: 77.5L x 41.5W x 44H
Full Bed Dimensions: 77.5L x 56.5W x 44H
Queen Bed Dimensions: 83L x 62.5W x 44H
Twin Carton Dimensions: 42L x 39W x 2.5H
Full Carton Dimensions: 57L x 37.5W x 2.5H
Queen Carton Dimensions: 62.5L x 35W x 2.5H
reviews
I bought this bed for my daughter. Shipping was fast. It wasnt extremely hard to put together. I love the look of it. I wanted something strong and sturdy to hold up to my pre teen ! Love it. We removed and spray painted the tops rose gold.
I was looking for a cute white metal bed frame for my daughters first "big girl bed". And this bed is perfect!! The texture of the frame is exactly what I wanted. Not the smooth super shiny metal. It's almost matte with a little texture.
SO cute and so surprisingly sturdy!!! It was so easy and quick to put it together!!!
Got the full size one, it's sterddy, and easy to put together. Very cute and stylish! Would recommend! Low price made me love it even more.
So, what so you get for someone who has everything, including a broken bed frame? If you're in a budget you get this decent metal bed frame. For this for my son, needing something affordable, not too girly, and not made of wood again. Wal-Mart had what I needed in this bed frame. It won't take long to out together. Instructions were fairly easy to follow; with pictures and numbers. One tiny complaint was the middle bar. I couldn't put the bottom metal slat-bars in without increasing the middle bar from the bed frame. Once I did that, all the slat-bars went into place smoothly . Once they were all in place, I went to screw the middle bar back in, and it wouldn't line up with the screw hole. However, if you have someone strong in the house, they can pull those pieces together while you drop that screw in there. After that, you're all done. Looks decent, it's been a couple of days and my son seems to think it's nice. Would recommend for persons on a budget.
This was simple to put the together and the instructions were easy to follow. Only took me about an hour (would have been faster if I had another person though). Exactly as pictured and looks great in my new guest room!
The bed frame was able to be put together by my 17 year old daughter. She goes on to say.. (so no help needed Mom…). She likes that the height can be changed too.
This was a nightmare..there was a big hunk of welded solder where the screw was supposed to go in to attach the headboard….a screw didn't begin to go in..the holes for one of the the siderails were so mismatched, a screw wouldn't go in that either..we returned it for a full refund..dealing with Walmart was the only good experience we had.