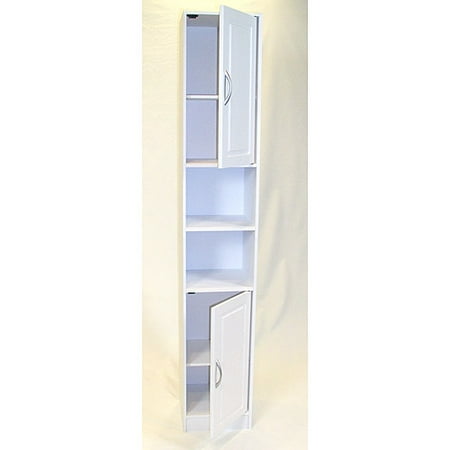 This beautifully designed Deluxe 2-Door Tower is a great additional storage for any room in the home. It features sculpted vacuum formed PVC accented decorative doors. The curved pewter colored handles enable easy and frequent access to this storage tower. It consists of large storage areas that have an adjustable shelf behind each door giving adequate space for storing your personal items. There is an open space present between the two doors. This storage tower comes with a durable water-resistant white PVC finish that keeps the storage tower looking new for years. You just have to wipe it clean with a dry cloth, which makes cleaning a breeze. It can be assembled very easily.
Deluxe 2-Door Tower White:
Sculpted doors are vacuum formed PVC accented with a decorative routed door design
Curved pewter colored handles
Large storage areas with 1 adjustable shelf behind each door
Open space between the 2 doors
Finished in durable water-resistant White PVC
Clean with a clean dry cloth
Easy assembly
Model# 76422
reviews
Our bathroom was lacking in storage space so we purchased this tower to solve the problem. We had very limited walking space between our vanity and roman tub. We took out a 24 inch deep cabinet and replacing it with this cabinet that was half the depth. It made a lot of difference. The cabinet is not a high end piece of furniture so don't expect that.
Our master bath lacked built in storage space . This is a clear solution. There is ample storage for large towels in the bottom and places to keep that which you don't want out for everyone to see. We are bolting it to the wall as is recommended for safety. I used small wicker bins for division. It's a no frills serviceable unit That takes up very little floor space so it fits our bill!
Just what I was looking for. I needed a little more storage in the kitchen. This serves as a pantry in my small kitchen. A little confused by assembly instructions (pictures only) but we figured it out and put it together in a little over an hour.
Really love this unit. It has all the room I need to store my bathroom items, and looks great. There's room to put your personal toiletries behind the two shelves with doors and plenty of space to display those you want to see. I'm very pleased with the price as well. Assembly was a little tricky, as all the misc. screws, and small pieces needed to assemble the unit were not marked, you had to match them up with the instructions. But it's up and being used already, period.
This is an attractive product. Assembly was easy, but it would be helpful to have some explanation with the very similar parts, as opposed to pictures only.
We got these for each of our office restrooms and they look good and function well for our needs.
Good quality, nice looking storage tower. Easy to put together, just make sure you don't put the shelves in upside down or the doors won't go on. I was one white sticker short for covering up the screw holes. Would be an eye sore for sure, but I put that side against the wall. Overall good quality and sturdy. Happy with my purchase.
Very pleased with quality and ease of assembly. No verbal instructions but pictures and diagrams are super easy to follow. Quality exceeds the price. Good value for the money.
This tower came with several of the pieces damaged on all the corners and scratched on the front of the doors. By the time I saw all the damage the pieces were already out of the box and I was fed up and frustrated because it looked like complete garbage. Didn't feel like trying to fit all the pieces back in the box to deal with returning this garbage back to Walmart. I put it together and hid it in the closed were I use it to store my bathroom items. What a waste of money!!!