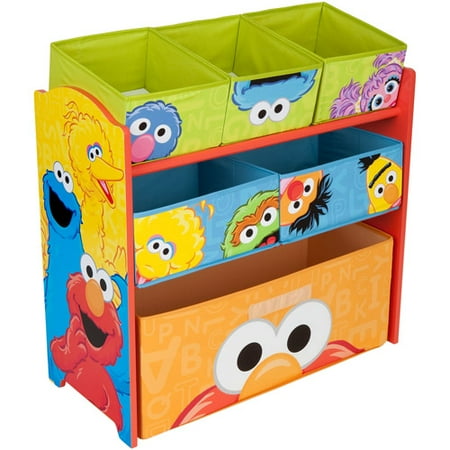 The Sesame Street Multi-Bin Toy Organizer makes it easy for little kids to keep their room tidy and clutter free. It features a bright, colorful design with images of the most popular characters on every single container. This Sesame Street toy organizer adds charm to any child's room, while encouraging them to pick up their things. It has a 3-tier design that provides ample space for little ones to arrange all of their belongings. The bottom is suitable for storing large items like stuffed animals or books. The other two tiers contain an assortment of smaller storage bins, where children can keep small accessories such as toys, shoes and much more. The bins are removable, so kids can conveniently bring their favorite things along with them anywhere they go. It comes in an easy-to-assemble package so you'll be able to construct it quickly for immediate placement in your child's bedroom or play area. Use it for storage space or as a teaching tool for your young ones.

Sesame Street Toy Organizer:
4 regular-size bins
3 double-size bins
2 extra-large bins
Bins are removable
Easy to assemble
Sesame Street toy organizer assembled dimensions: 25″L x 16.5″W x 30.5″H
Helps instill good habits from a young age
Bright, fun colors
Features beloved Sesame Street characters
Use in a bedroom, playroom or basement
reviews
This was very easy to assemble and the bins are more sturdy than I was expecting! It is shorter than I imagined but it's the perfect height for my 2 yr old
Perfect for my sons playroom, perfect size for him, and helps keeps things organized!! Easy to put together.
Purchased as a Christmas present for toddler. Appears to be as described. Delivered to store on-time, pick up was easy.
This toy storage is very cute, vibrant colors, and the characters look like they should. It is a little small if you have a ton of toys. I bought this for my mom's house for when my son is over there, so she doesn't have too much to store.
This little toy bin serves the purpose of what I needed it for – to have the little toys separated and to the top rather than to the bottom (and lost) of a regular toy box and is the same height as my toddler to be able to get and play all by herself.
It's cute and small. Perfect for a small child to reach into the top shelf.
Love it great size and cute decoration for your kids room. Easy to assemble together I purchased one for my son and nephew. Make sure to put light toys on the bottom box it got damaged from my son pulling it out and had heavy toys inside.
Thought this would be cute for my 1 yr old boy but was impossible to build. We had to throw it away because it was wobbly and a mission to be able to create the holes needed.