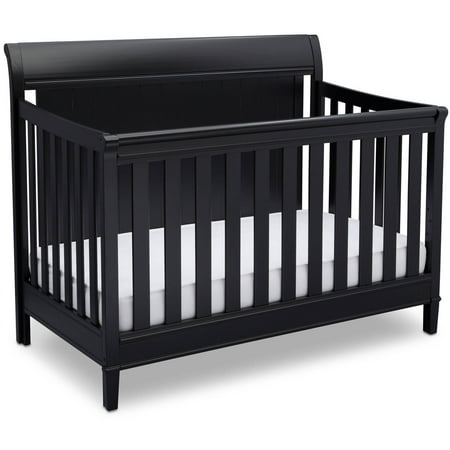 Give your nursery a relaxed look you'll love with the cottage-inspired styling of the New Haven 4-in-1 Convertible Crib from Delta Children. A slightly curved, sleigh-style headboard adorned with bead board detailing exudes timeless appeal that will furnish your child's room from birth till adulthood. Designed to grow with your child, this baby crib features three mattress height positions, plus it converts into a daybed, toddler bed and full size bed (Daybed Rail included; Toddler Guardrail and Full Size Bed Rails sold separately). Available in multiple finishes. Delta Children was founded around the idea of making safe, high-quality cribs affordable for all families. That's why all Delta Children cribs are JPMA certified, and are tested above and beyond industry standards.
Delta Children New Haven 4-in-1 Convertible Crib, Aqua:
Converts to a toddler bed, daybed and a full size bed (Daybed Rail included; Toddler Guardrail #0080 and Full Size Bed Rails #0050 sold separately)
Available in a variety of long lasting and popular finishes
Coordinate the New Haven 4-in-1 Convertible Crib with other matching Delta Children nursery pieces in the same color (sold seperately)
Expertly crafted by Delta Children; easy for you to assemble
Adjustable height mattress support with 3 convenient positions to grow with your baby
Uses a standard size crib mattress (sold separately)
JPMA Certified to meet or exceed all safety standards set by the CPSC and ASTM
Tested for lead and other toxic elements to meet or exceed government and ASTM safety standards
Assembled dimensions: 55″L x 32.25″W x 43.5″H
Visit www.deltachildren.com for an assembly video for your crib
Model# 549150-347
Mattress sold separately.
reviews
The sleigh bed design of this crib is beautiful. The sleigh bed design means that the back of the crib is a solid piece of wood instead of slats like many cribs. It's well-made and sturdy. The box weighed a little over 70 pounds. It took 2 people less than 45 minutes to put it together. The directions were clear enough that cussing wasn't required. We used a drill, but a cute little Allen wrench was in the box. This crib meets all safety standards set by the federal govt. It is JPMA certified (Juvenile Products Manufacturers Association.) Safety guidelines are very specific in regards to anything that can trap, choke, squeeze, or suffocate a baby. Pros: *The slats are less than 2 3/8 inches apart. If you don't have a way to measure it, one site recommended using an aluminum soda can. If it can slide between the slats, the crib is not safe. * Sturdy and unshakeable…it's not going anywhere no matter how rambunctious a baby might be. *Fixed side rails. *Adjustable height mattress support with 3 convenient positions to grow with your baby *Hardware is inset so that it cannot be loosened and become a choking hazard. *Metal frame bottom with springs. Should add comfort as more weight is on the mattress. *Uses a standard crib mattress. *Walmart has the best price for this crib of any other site. *Gray has become a popular baby color since any color will blend with it. When it's no longer a crib or toddler bed, the color won't make it look babyish. Both genders and any age can manage to find beautiful bedding to use with gray. Cons: *You can see a slight blemish where white shows through. Minor but noticeable. I'm surprised it wasn't caught at the factory. *Parts were not included for the toddler bed or the full-size bed. The toddler guard rail is around $50 and the rails to make it a full-size bed are an additional $100. I felt like that should have been made clear in the description. *Safety guidelines suggested teething rails so that when your baby starts cutting teeth, they won't chew on wood. Some of the higher end cribs had teething rails built on. There are many choices available to add that when the time comes. You can expect to spend between $10-$40. Overall, this is an excellent choice for a crib. It's heavy, sturdy, safe and a beautiful sleigh bed design. I gave it 4 stars instead of 5 because of the minor blemish and the additional costs to convert it to a toddler or full-size bed.
This crib is made well and comes with all the hardware needed. It takes an hour or two to put together. It's sturdy, has good instructions and appears safe. It even has a paper attached to the spring showing you which side of the spring should face up. HOWEVER, it's easy to attach the hardware on the spring WRONG and make the mattress too high and unsafe. So, it's best to watch a You Tube video of instructions, step by step, so you install the hardware connected to the spring in the correct position. If installed correctly, it makes the spring plus mattress low enough that the toddler can stand without toppling out. The gray is a pretty gray. I was afraid it would be too washed out and dull but, it's not. It's a very nice gray color. I would definitely recommend this to others. For rookies 😉 make sure you put the crib together in the room that is will stay in, because you will not be able to move it into a different room once put together.
We cannot say enough good about this Delta Children New Haven 4 -in -1 Convertible Crib in the color grey. It was a miracle this baby boy is even coming into this world and so Grandma (me) Mom and Dad all want the best for him, as far as safety, function, style, and longevity. This Delta 4 – in -1 crib will take our precious one from birth, to standing up, teething, walking and it will be made into a big boy bed from potty training well into his teens. You cannot ask for anything better. First of all as in the photo it came package extremely well. Nothing was so much as scratched. All the screws were packed together, and in a box. The directions were even in cased in plastic. They were very easy to follow, but Mom did say if the pieces were labeled like many furniture items are like with letters A,B.C, D and so on the assembly would have went even faster. Still they had it assembled complete with mattress and all bedding ready for baby in about 20 minutes. The Delta crib is very well constructed. Every piece has a smooth finish, and is very attractive.We looked at other cribs and just love this Delta crib. The grey color is perfect to match any possible color nursery theme. Great choice from traditional wood or white. All 3 of us agreed this Delta Children New Haven 4 -in – 1 Convertible Crib in grey is a 100% yes. It is sturdy, and we can see it being passed down to another family member years down the road if needed. Possible our sweet grandson will use it for his child.
Crib arrived in excellent condition the box came with no tears or any outside damage. My wife was so excited about the bed color being grey. She said it's very easy to find accent colors to match the bed and she says that grey is the perfect color for a boy or a girl. My wife and I worked together as a team to lay out each part and follow the step by step instructions. While laying out the parts I examined them and there was not a scratch on any of the wood, everything was in great condition. We began putting the parts together and every part fit perfectly and the frame fit together well and was very sturdy. Before we added the mattress we decided to see how easy it would be to convert the bed to another conversion. We tried the toddler bed and also the day bed conversion. It was very easy to follow the instructions and change the bed around. We didn't try the full size conversion due to time restraints. We switched the bed back and added the mattress, it stands at the right height to bend and lift out a baby. We can't wait to get the comforter and add a grandchild in the near future to make the room complete. I would recommend you purchase a Delta Children New Haven 4-in-1 Convertible Crib, Grey; it's absolutely gorgeous, my wife says!

First off I love how this can be used as 4 different things. That will definitely come on handy. The color is nice I like it. Right now I'm use it as a crib and it seems very sturdy. Not hard to pit together and did not take forever to do so. I would get this again. I'm very happy with this 4 in 1 crib and can't wait to use it has a toddler bed next.