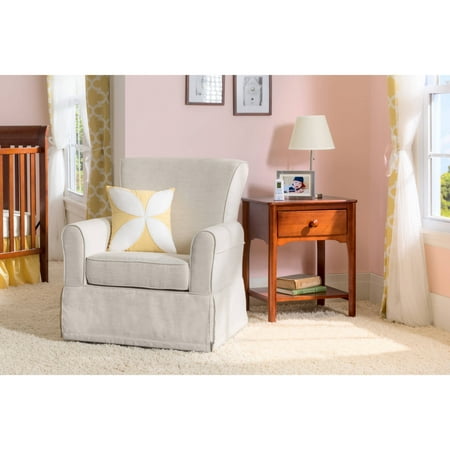 A plush armchair above a gentle swivel and glide mechanism creates a glider you and your baby will love to relax in. Crafted with a supportive back and sturdy wood frame for lasting strength, this Epic Upholstered Glider from Delta Children is upholstered in a super-soft, durable fabric that works well in any room — not just the nursery.
Delta Children Epic Upholstered Glider:
Fully upholstered glider with a gentle swivel and glide motion
Sturdy frame providing stability
Durable steel mechanisms to ensure quiet movements
Armrests are thickly padded for comfort
Seat cushion is plush and removable for easy cleaning
Easy-to-clean poly linen fabric
Available in Taupe and Sand colors
Assembled dimensions: 30.25″L x 32.50″W x 35.75″H
reviews
I purchased this product to use in my baby's nursery. When we initially received it we loved the color and style of it. Was very easy to assemble. But once we sat in it we were concerned about the comfort. It is not soft and cushy as you would hope a chair might be especially if I'm going to be doing feedings in it and reading books down the road. But now that I have used it for feeding and midnight cries it's actually pretty comfortable. Provides the right amount of support and I can use feeding pillows while sitting in it.
This chair looks excellent in the nursery and my favorite part, as the husband, is that it was simple to put together. This chair comes with 2 screws, that's it. The chair is really firm out of the box, however I believe it will loosen up in time. Overall happy with this chair.
I looked everywhere for a small-sized rocker at a great price and finally found it with this glider/swivel chair. It looks wonderful in my small bedroom and it was remarkably easy to assemble by myself. I thought I'd need help, but I didn't at all. (Hint: lift up the chair at the back and you'll see the holes where the bolts and washers go. Once I got the hang of sliding the metal thingees onto the other metal thingees, the back slipped right over the bolts.) Delivery came days earlier than predicted, which was fine with me.By the way, for anyone like me who doesn't know the difference between a glider and a rocker, this feels just like a smooth rocker to me.
I am very happy with this chair so far which I purchased for my nursery. My baby has yet to arrive so I cannot comment on the chair's durability but can comment on the overall quality and appearance. I didn't want to spend several hundred dollars for a nursery chair and am very happy with the quality of the item. The color is slightly more 'oatmeal' than pictured but still works in a room that has a lot of pure white. 'Oatmeal' is a good description due to varying subtle flecks of light brown/tan among the overall light ivory color. Very easy to assemble. Slightly compact in terms of both height and width (relative since in it's a room with 9′ ceilings) but seems to be comfortable, swivels/glides easily.
This is a nice chair for the price. Easy to put together. Comfortable but on the small side. Glides nicely but does click every once in a while. True color.
I love the look and comfort of this chair so much! It is perfect for a boy or girl nursery. Such great quality too for the price. I would highly recommend it to anyone looking!
We purchased two for our nursery at church and they are just what we needed! They are not too bulky and are so very comfortable. Perfect for our small space and the mom's really like them!
I was very happy with the overall LOOK of this chair upon receipt, but once my husband and I started to assemble the back to the chair frame we ran into numerous hiccups. Keep in mind that putting this chair together is not rocket science as it comes with only 2 pieces to assemble and a chair cushion. After over an hour of scratching our heads, wondering how this chair had defeated us… we got out a trusty measuring tape and realized that the pre-drilled holes were misaligned making it impossible for this chair to come together. I was so frustrated and angry that I didn't dare want to bother with another replacement so we lugged it to a local store for return. Fortunately that process was much easier than our attempt to get this chair together.