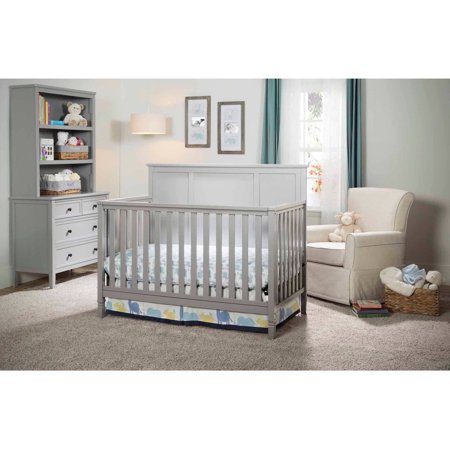 Featuring a decorative back panel, classic railing and tapered legs, Delta Children's Epic 4-in-1 Crib gives any nursery a grand centerpiece. Designed to the highest safety standards, this JPMA certified crib easily converts to a toddler bed, daybed and full-size bed, so you can rest easy knowing your child will have a secure sleeping space from infancy to adulthood.
Delta Children Epic 4-in-1 Fixed-Side Convertible Crib:
Converts from a crib to a toddler bed, to a daybed and to a full-size bed with headboard
Toddler guardrail and crib conversion rails sold separately
3-position mattress height adjustments
Strong and sturdy wood construction
Tested for lead and other toxic elements to meet or exceed government and ASTM safety standards
Uses toddler guardrail: 0080 (sold separately)
Uses full-size metal bed frame: 0040-009 (sold separately)
JPMA certified to meet or exceed all safety standards set by the CPSC and ASTM
Available in White, Gray and Dark Chocolate
Easy assembly
Assembled dimensions: 56″L x 30.25″W x 45″H
Bedding not included
Mattress sold separately. See our assortment of crib mattresses.
reviews
We love it! Sturdy and the color is perfect. Our baby is due in December and I can't wait to put him in it and test it out!
We got our crib in the mail today. Love the color and we were very excited to put it together, however, the headboard was cracked so instead of putting it together we need to get it replaced. Kind of annoying to deal with that.
Ordered this crib in March 2016 didn't put it together until May 2016 after the room was painted. As we were putting it together we noticed the back of the headboard has a crack that spreads to the middle of the headboard. That's was the only problem we noticed since it's on the back we not taking it apart to get a replacement. The crack in the headboard is the only reason I'm not giving this crib 5 stars. It's brand new i feel nothing should be wrong with any of the pieces.
My husband assembled the crib in no time today. Baby isn't here, so I can't speak to function quality, but the fact that it was easy to assemble was refreshing. We love the look as well. It's nice and sturdy but light enough to move fairly easily. You can't beat it for the price. I will write a separate review once our little guy gets here and I'm able to comment on functionality. I'll post photos as well.
Purchased this crib bc we did not want anything too expensive. This is our 3rd child and know that even though we would use as toddler bed and full size we would not have it forever. This was pretty easy to assemble. Very sturdy so far. Love the gray color. Great crib for the price and was great that the mattress came with it as well! Very happy with this purchase
Bought this crib for my son at 15 weeks pregnant. Used it for storage until he was 8 months old and left my bed to sleep in his crib. It is adorable, we've had no issues with gaps or limbs getting stuck in the bars and the settings worked great for us. We recently found out we are expecting baby #2 in February and will be buying the same crib again.

I like this crib. It is pretty, and we got it discounted because it had been returned. It's held up through a move. My only complaints are that the minimum mattress requirement is too low (still gaps) and the highest mattress setting is too low to easily use with a newborn. Setting them down while they are already asleep and not waking them up is virtually impossible when you have to either break your back bending down or take them out of the cradle hold. Little one is 8 months now and falls asleep on her own, but she had to sleep in the rock n play until then.

I ordered this crib online, got it within a few days went to put it together and the headboard was damaged, packed it back up took it to wal-mart for an exchange, got it back home took it out of the box and the pieces don't fit together! They weren't measured and cut right! Third time that i will be taking this item back and this time getting my money back and buying a higher quality crib. Such a shame, i liked this crib.