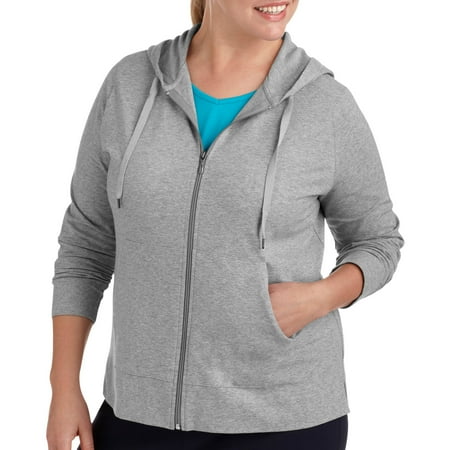 This Dri More Plus-Size Danskin Now Women's Zip Up hoodie features a soft and flexible cotton blend material for superior comfort. Whether you are going to school, running errands or working out, this top offers a soft texture and good insulation. The Danskin Now plus-size zip up hoodie is made with a zipper closure and Dri More technology for top-notch comfort while exercising, allowing you to push yourself harder for more effective exercise and cool off faster after. This top is comfortable enough to be worn around the house or on casual day trips. This Dri More Danskin Now sweater has long sleeves to keep you warm during any workout from a crisp morning jog to time in the gym. Danskin Now Womens Plus-Size Dri-More Hooded Athletic Jacket:
90% cotton, 10% spandex
Zipper closure, full
Long sleeves
Hood on back
Adjustable ties on hood
Dri-More technology to keep you dry
Machine wash cold
Danskin Now hoodie
Designed to be comfortable during workouts
Soft texture and insulating but breathing design works for errands, lounging and casual everyday use
One-stop solution for workout clothing
reviews
These are great. I use instead of a sweater. Do up well too.
T-shirt weight fabric, just what I was looking for. I ordered a 2x (I'm 5′ 7″, 42D) and it fits very much like the product photo, a trim fit, not a relaxed fit. I also ordered the black and am wishing there was a red available. Sleeves come just past the wrist joint, so they are long enough.
Very happy with this hoodie. I usually have trouble with sleeve lengths but this hoodie has the correct length. Size is perfect.
This jacket is nice for a workout or walk on a brisk day outside. Also nice when you want to grab a light jacket on cooler days. It is not too thin. The material is good. I really like it.
I like the hoodies. I bought them as a gift and I hope my daughter likes it too.
This Danskin hoodie is a very good value. I buy a lot of Danskin active wear. They are good quality as well as a good value. They fit is true to size. And the colors always match in tops and bottoms. They wash and machine dry well.
Liked that it fit and had some give , didn't care for the hoodie. And didnt have much in colors to pick from.
I got this jacket to wear for fall. It isn't cold enough for a heavy jacket so I needed something lighter. I absolutely love it. It fits perfectly and is the perfect type for crisp fall nights. I'm tempted to purchase a second one for a backup.
I love my jacket I bought. I have ordered 2 from different places and had to return both. This one I went by what my old one was made from the company and close to what it was made of. Perfect ! ! !
The sizing on this jacket runs very small. I don't know if these are made for American women or mannequins. I can't imagine how small this would get after being washed. I will return this and try to find a hoodie that is sized accurately to its label size and published measurements.