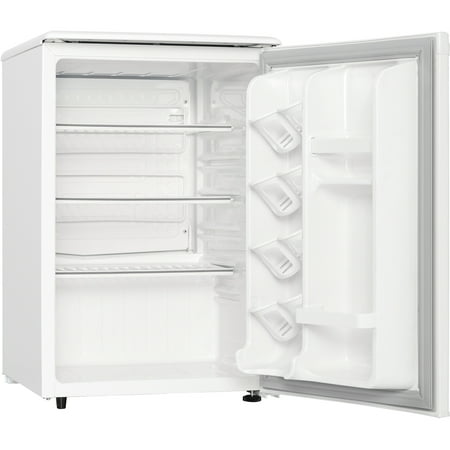 You can add a touch of class to any room in your home or office with this striking compact refrigerator by Danby. The Danby Designer refrigerator comes in at a height of just over two feet and features 2.6 cubic feet of cooling capacity. It's the ideal unit for floors and countertops, making it the perfect fridge for spaces such as dormitory rooms and wet bars. Finding storage room for tall bottles is no problem at all and the third-generation CanStor beverage dispenser is second to none. Accessories can easily be stored on the scratch-resistant worktop and there's no need to defrost the unit as it's done automatically.
Danby Designer 2.6 cu ft All Refrigerator, White:
2.6 cu ft capacity white compact refrigerator
Energy Star compliant
Environmentally friendly R600a refrigerant
Automatic defrost system
The 2.6 cu ft refrigerator has 2 full width and 1 half width adjustable wire shelves
Tall bottle storage: great for large soda bottles
CanStor beverage dispensing system
Mechanical thermostat
Scratch-resistant worktop
Integrated door handle
The white compact refrigerator has a reversible door hinge
Smooth back design
The Danby Designer refrigerator has a 18-month warranty
Model# DAR026A1WDD
reviews
Have only had this a week. Seems to work fine. Temperature control is on the back of unit, so it is not easy to adjust if used under the counter, but takes up no space inside which is a good thing. If you do not drink soda, half the door space is wasted. Seems like a good unit. Very quiet. No problems with delivery or ordering.
I wanted a small refrigerator without a freezer compartment – this fits my needs.
It makes an excellent fridge without a freezer. The 2.6 cu ft is a very good size. It will hold 2 shelves of cans and one of bottles standing up. So far very pleased.
I WANTED A FRIG WITH NO FREEZER. THIS FIT THE BILL PERFECTLY. KEEPS EXTRA ITEMS NICE AND COLD. PLENTY OF SPACE FOR WHAT I NEEDED IT FOR. SO FAR SO GOOD. VERY NICE LOOKING TOO.
Very nice size, holds a lot of drinks and doesn't have the freezer taking up space and creating extra work to defrost.
I bought it for an efficiency apartment because it fits under the counter. Has been working perfectly. Would definitely recommend
This fridge was great for the first few months but now it keeps freezing random items in it. It's strange because the placement doesn't seem to matter, just certain things freeze and some don't. My carrots turned into tiny ice nuggets and my milk is a giant carton of slush. Not fun. Don't recommend (unless you like eating the icy versions of your favorite snacks, of course).