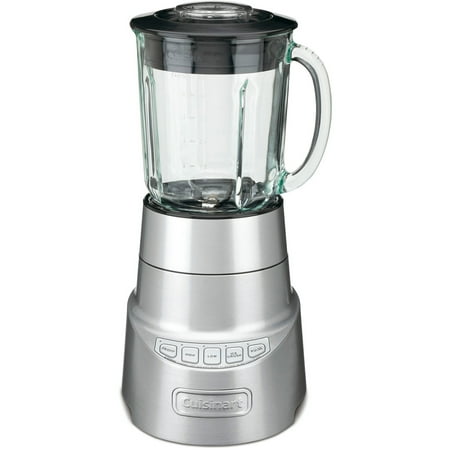 This Cuisinart SmartPower Deluxe Blender is versatile and comes with several options. It includes all the features and blending power that serious cooks need. This 600W blender has a patented stainless steel blade and a large borosilicate glass jar that is shock-resistant. It has the ability to pulse at high or low speeds to let you do it all. Mince delicate herbs, whip up smoothies, make savory salsas or chop ice for a crowd. With its sturdy die-cast base, this BPA-free blender can handle anything you toss at it or into it. It comes with a 2-minute auto-stop feature and has a tight-seal lid with a pouring cap insert. It also has a standby mode and comes with easy touchpad controls with blue indicators. This item is available in your choice of assorted colors to match your decor.
Cuisinart SmartPower Deluxe Blender:
Die-cast metal housing with stainless steel collar
High-performance 600W blender motor
Sleek 4-speed electronic touchpad controls with blue indicators
Comes with high, low, pulse and ice crush controls
Standby mode
Automatic 2-minute auto-stop feature
Patented ultra-sharp stainless steel blade
48-oz thermal shock-resistant borosilicate glass jar
Tight-seal lid with 2-oz measure pouring cap insert
3-year limited warranty
BPA-free blender is available in silver, pink and red
Directions
:
Instructions: For household use only.
Fabric Care Instructions: Follow instructions provided on the tag or packaging.
reviews
The only negative thing I have to say is it does NOT look like this in person. Online it shows a picture of a really pretty bright pink blender almost fushia, which I love. In person it is more like a dull reddish-burgundy. A good part of way I chose this blender was the color. Very, Very disappointed!
I use it for making protein shakes and smoothies. It blends the ice and frozen fruit in seconds. It is also easy to clean. Best blender I have ever had.
I love it, I love it !!!!!!!!! The color is perfect and works well.