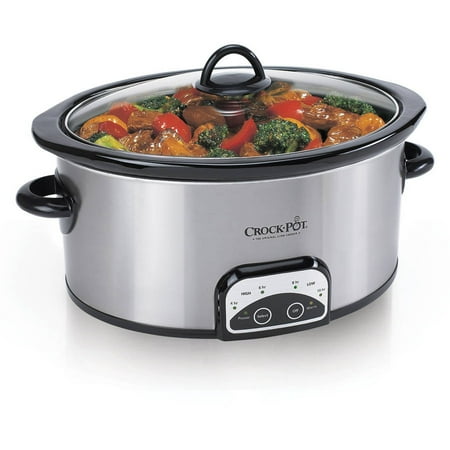 Slow cooking in your Crock-Pot 7-quart Smart-Pot Digital Slow Cooker gives you the flexibility to prepare a meal early and then let it cook all day. This stylish slow cooker with a flat digital panel uses programmable cook settings, so you can set it on high for 4 or 6 hours, or on low for 8 or 10 hours, conveniently and precisely cooking around your schedule. After the cooking time is complete, the Smart-Pot Slow Cooker will automatically shift to the warm setting to keep your food at an ideal serving temperature.
Crock-Pot 7 Qt. Smart-Pot Digital Slow Cooker, Brushed Stainless Steel:
7-qt. slow cooker casserole capacity serves 7+ people
Program the cook settings for 4 or 6 hours on high or 8 or 10 hours on low
Automatically shifts to the warm once cooking is complete
reviews
This is the second one of this model I have gotten. The first one still works, but it was time for a new one the handles are starting to get loose and I have had it and used it for 11 years and still using it till I get my new one for xmas.
I can cook for a month and then freeze it and last me a month
Works Well for Hi and Lo roasting. Pork shoulder, Corned Beef and Chicken. All great. Limited timer options.
Sturdy, easy to use and reliable. I am no chef, but love veggie soups this makes life easy!
I have got a new best friend in my kitchen. Love this roomy slow cooker. It has 2 settings. 4-6 hours fast or 6-8 hours slow and keeps it warm for an hours after it's done.
My second crockpot like this. The first one cracked all the way across the bottom. But I like the size and the control options on this updated one. My only complaint is that it is so heavy to lift and wash.
Great size to fit everything from soups, stews, chicken, and full size roasts! I like the two high/low settings and especially hot it automatically changes to Warm after time set is done cooking. Very easy to clean and love the see through glass lid.
Wonderful Item! We ordered for our office and it is fabulous!
I've only had it for a few months, I only used it once every 2 weeks – maybe once a week tops on rare occasions. I used it yesterday and it was leaking. The soup was dripping all over my counter and on the kitchen floor! When I checked it, the inner pot was cracked! It was normal use, no impact that would have caused it to crack! I'm so disappointed! I love the shape and size of this crockpot but other than that, there's nothing else to love. Waste of money! Now I have to take it to the dump!