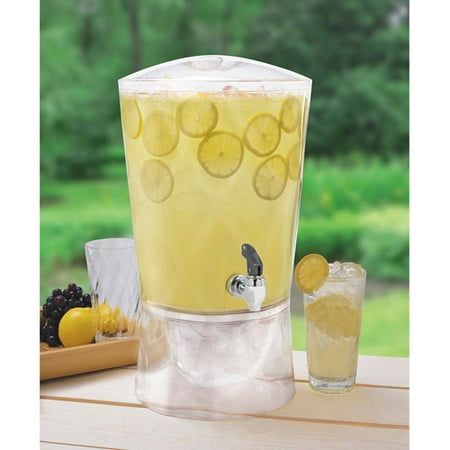 The Creative Bath 3-Gallon Beverage Dispenser makes for smooth and easy serving of drinks at parties and gatherings. This Creative Beverage Dispenser, Sculptured, BPA-free, makes for an attractive feature itself in any social gathering and effectively shows off the beverage within. Useful in many different settings, the cold beverage dispenser can be washed easily by hand after the big party.
Creative Bath 3-Gallon Sculptured Beverage Dispenser:
BPA-free beverage dispenser
For cold beverages only
Hand washing recommended
reviews
Using for garden party post wedding celebration. Adds to decor well
We had a 16th birthday party for my daughter, we filled three of these with water and some with punch. They came in very handy for this occasion . Will recommend to a friend
Great product, looks wonderful and great price. Huge!
Love this product. This is the second one I have owned. Someone borrowed my first one, never to return it. They must have loved it too. For the 4th of July I filled it with fresh sliced lemons , water and a half of bag of ice. I do not purchase bottled water (yes, we can drink our tap water). The perfect way to keep our guests hydrated and help the environment.
Great product. Makes for a lovely beverage table. I would recommend this to a friend.
It developed a small crack next to the dispenser which causes a leak when pressing down on the dispenser. The crack appeared after the second use.