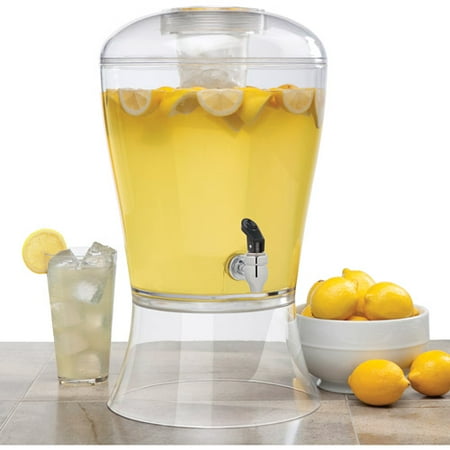 The Creative Bath 3-Gallon Beverage Dispenser with Ice Core is sensational for parties and gatherings. The ice core of the Creative Bath 3-Gallon Beverage Dispenser keeps beverages refreshingly cool without diluting them. The Creative Beverage dispenser, with the ice core, is for cold beverages only. The 3-gallon dispenser has a clean, stylish design that would fit most settings and can be used both indoors and outdoors. Hand washing is recommended for the Creative beverage dispenser with ice core.
Creative Bath 3-Gallon Beverage Dispenser with Ice Core:
BPA-free beverage dispenser
Ice core keeps beverages cool
For cold beverages only
Hand washing recommended
Reviews
They worked wonderful for what we needed and they did not leak or crack at all. Would buy them anytime.
The dispenser is a very good product, but Walmart deliver them without individual product package that makes them unattractive.
I would have liked to know that it is very light in weight and very large and sort of awkward especially for storing as each of the 3 pieces are odd shaped and don't fold or collapse.
I use this thing to filter tap water. I put a bunch of tiny holes at the bottom of the ice cylinder and and then fill it with carbon. Then I just throw a big water cooler style container on the top. I have made two of these and one is still in use after a year. They hold up well.
Worked beautifully during my mother in law's surprise 90th birthday party. Went through several gallons of punch which stayed cold during the entire party. No leaks. Larger cups fit under the spout quite easily. Came apart and cleaned up easily. Can't beat it for $20!
I actually bought three of them for different beverages and it worked out pefectly, they looked great on the beverage table!
Bought it as a gift for my in-laws. They love it. They saw something like this in a hotel they stayed in and wanted one.
Just want I need for my wedding! Perfect size and they look nice. Not super fancy but I'm having a backyard wedding.
This is exactly what I've been looking for!!! This will be perfect for my daugter's graduation party!!
I was in a pinch and I needed a bunch so it was ok for $19, eventually they will start to get cloudy and develop cracks, wouldn't buy for durability.
Creative Bath 3-Gallon Sculptured Beverage Dispenser: BPA-free beverage dispenserFor cold beverages onlyHand washing recommended
Cold to the core, that;s the Creative Bath 3 gal. Acrylic Beverage Dispenser With Ice Core for you. Keep your favorite beverage cold with this dispenser's core ice compartment, that ensures your drink...