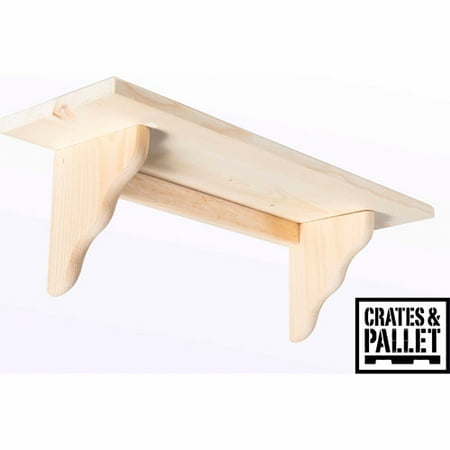 Crates and Pallet Small Wood Shelf:
Ships fully assembled
Smooth, unfinished pine ready for any finish or left raw
Rectangular shape offers maximum shelf space for your collectibles
7″ depth allows for plenty of room for shelf items
Installation keyholes provide for quick, easy hanging
Space between keyhole plates: 16″
Dimensions: 23″W x 7″D x 7″H
Model# 94614
Add stylish decorative shelving in unused space by installing this 23-inch shelf. Diagonally cut corbels provide extra shelf stability. Shelf arrives ready to stain, paint and decorate.
reviews
I bought two of these shelves and first off, they arrived earlier than expected which was great. Second, when I got them home and out of the boxes they were both in excellent condition and required very minimum prep work to sand them down and stain. They look fantastic! I would definitely buy this item again and plan on it, as I need two more shelves!
Great shelves for the price. I have ordered a total of six and they are just right for my application.
I didn't use the mounting design behind the brackets. Instead, I drilled two holes in the vertical cross piece and used two heavy drywall screws to mount it directly to the wall. It went up in seconds and was easy to balance with a small level. I don't mind the sight of the screws, so it works for me. The solid wood construction is what I wanted most.
I bought two small shelves to hang in the boys room. We spray painted them a blue that matches the bunk bed and dresser. They turned out well. They hang easily. We also bought two large shelves to go on the wall above the top bunks. Works perfectly. Very pleased.
Took some minimal sanding, but with a white enamel spray paint it looks nice. Fastens to wall nicely with two molly bolts (not included). Total cost for shelf, paint and bolts was less than $15. A bargain. I recommend the product.
Item was cracked, chipped and generally in poor condition. It was rejected and returned.