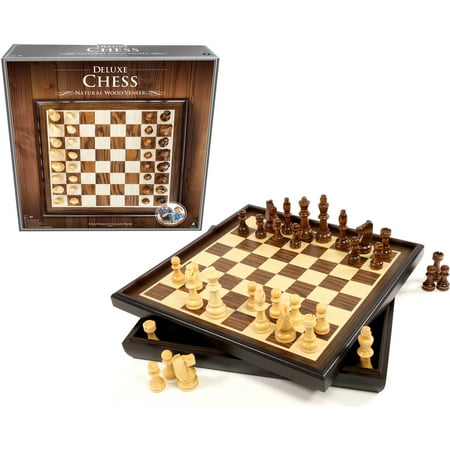 This classic quality wooden chess set features natural wood veneers and hand-carved wood chessmen. The chess board has a removable lid to store the pieces. The King measures 3.25 inches in height.
Craftsman Natural Wood Veneer Deluxe Chess Set:
Age range: 14 years and up
Natural wood veneer storage case 14″ x 14″
3.25″ solid wood playing pieces
Instructions
reviews
I can't believe the price of this item. It is absolutely beautifully made for the price. This is a steal. Absolutely recommend it, looks like you paid so much more for it.
Purchased this chessboard as a birthday present for my 9 year old. He just loves it. It has a storage compartment for the chess pieces; which is a must. The chess pieces are a nice size for playing easy to move and they are well balanced; actually quite well made. Overall a excellent value for price.
The wood box is convenient for storage.